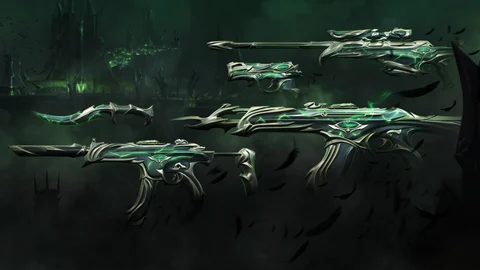 The new Forsaken Bundle should hit the Valorant Shop soon and just in time for the release of the upcoming Act 3 Battle Pass.

Valorant is gearing up for a new Battle Pass and bringing with it a new skin bundle. The Forsaken Collection will be released in the Valorant shop on April 27th. The Valorant Episode 2 Act 3 Battle Pass should last until June 2021 and contains skins, gun buddies, sprays, and more.
What Weapon Skins are in the Forsaken Bundle?
Vandal Skin
Operator Skin
Spectre Skin
Classic Skin
Ritual Blade (Melee)
Forsaken Card, Spray, and Gun Buddy
The Forsaken Bundle will cost a hefty 7,100 VP and to put that into perspective, it will cost you around $70. However, you are only able to buy VP in certain amounts meaning the most cost-effective way to get the Forsaken Bundle would be to drop $100 for the 11000VP point package. A big cost, but at least this skin bundle is heavy metal AF and looks like it's straight out of World of Warcraft!
EarlyGame is where you'll find it: with MyEarlyGame.