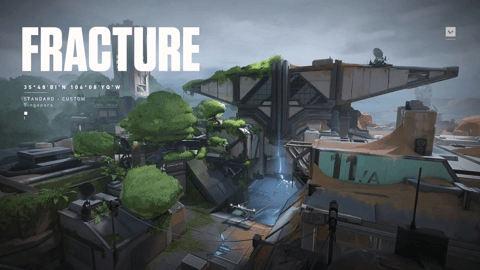 As Riot promised, today we got to see the new Valorant map on Twitch! At this point, we know almost everything about it.
For several weeks the new Valorant map has been the focus of attention, moreso than any other content coming in the new Act. And finally, we have it! It will go live on the official servers on September 8 along with an Episode 3 Act 2 Battle Pass, but some content creators got early access to the Fracture map, and we'll give you the highlights of what we learned after several hours of watching the gameplay on it.
Fracture Map Gameplay
Today was the day when Riot allowed all content creators who got early access to the Fracture map to share their impressions. At this point, we already know the map quite intimately. Anyway, see for yourself:
Fracture Gameplay | #VALORANT pic.twitter.com/gqOWRP6ofj

— Mike - Valorant Leaks & Info (@ValorLeaks) September 3, 2021
Throughout this weekend (03.09 – 05.09), you will be able to watch the new map on various content creators' Twitch channels. We don't have an official list of all of them, but you can probably go to the Valorant section on Twitch and check out the top streams, and you'll pretty much have all the Fracture map streamers in one place.
Our Thoughts on the Fracture Map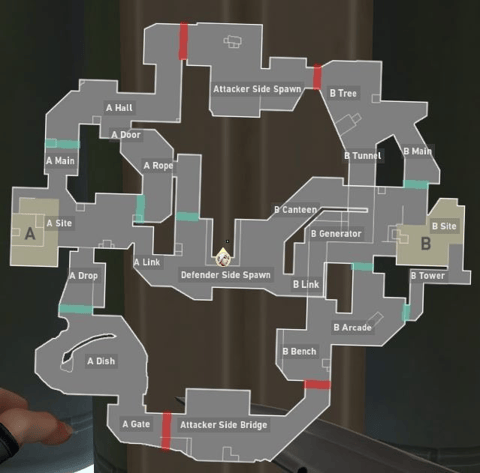 Fracture seems like a favorable map for Attackers. You can enter both Spike Sites from two sides that are pretty much accessible from the Attackers spawn. Of course, the teamplay aspect will be key here, but there doesn't seem to be many corners where Defenders can position themselves to defend a rush from both sides. Maybe they need to play more aggressively and stack Spike Sites more often? We haven't played it yet, but it seems like a challenging map for Defenders.
Moreover, Defenders would probably need a good Sentinel (maybe double Sentinel lineup will be the meta on Fracture?) and a sniper. Seeing how difficult it is to defend both Spike Sites, well-functioning support, and someone who will consistently pull frags at a distance could be a must-have to win rounds as Defenders. That said, playing pre-made on the Ranked Play may matter more than ever in Valorant.
Will Fracture Map be on Masters: Berlin?
It seems like Masters: Berlin will be played on the current patch (3.04) without the Fracture map. It's a bit of a shame, but it's understandable. It would probably be the primary ban choice for most teams because most players wouldn't feel confident about it yet. For more information on the Masters: Berlin tournament be sure to check out our article: How To Watch Valorant Berlin Masters: Teams & Streams
Another #Valorant Giveaway!!! This time all you have to do is:

- Join our Discord https://t.co/EsfhN5etb5
- Like this post
- Retweet this post

The Giveaway ends in 4 days. We will announce and contact the winners through Discord. Good luck! pic.twitter.com/j5eS6xukxc

— EarlyGame (@earlygamegg) September 3, 2021
And what are your thoughts on the new map? Let us know on Facebook or Twitter, and consider joining MyEarlyGame today for exclusive tourneys and loads of great giveaways!