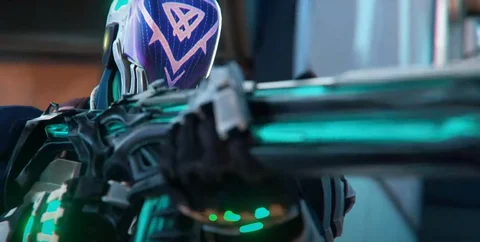 The latest skin bundle in Valorant is looking like a special one, as it might be a crossover with Riot's other big title – League of Legends. Here's all we know about the Valorant Ruination skins so far.
For many years, Riot Games were mostly known for a single game – League of Legends. In fact, fans would often joke that the "gameS" part in the company's name was unjustified. All of that is in the past now, as it all changed in the last two years as Riot Games started pumping out games like crazy. In the past year alone the studio managed to release Legends of Runeterra, League of Legends Wild Rift, and Valorant. Many questioned whether we'll ever see LoL characters or lore make their way into the tactical shooter, and now we finally have an answer.
Valorant Ruination Skins Are on the Way
A leak by data miners uncovered that the next skin bundle in Valorant might be inspired by League of Legends, namely by the Ruination and Sentinels of Light event.
At first glance, the skins remind us of a couple of other bundles, like Oni and Forsaken. Other users compared the skins to Viego from League of Legends, and we totally see the similarities. Another fan claims that the bundle will be called Ruination, a name that already exists for skins in LoL. Whether that's really the case remains to be seen, but the color pattern sure is similar.

Valorant Ruination Skins Release Date
The latestskin bundle in Valorant is just around the corner. The Valorant Ruination skins are expected to launch on July 8, the same day that the Sentinels of Light event is set to go live in League of Legends.
Many players have been asking for a crossover between Valorant and League of Legends, and they are finally getting their wish. Previously we've only seen small easter eggs from League of Legends like the Tahm Kench on the bench.
Who's on the Bench? #VALORANT

Well its Tahm Kench, from League of Legends...
VALORANT x League of Legends?

Message Translation(Google Translate)
~On the Bench Pillars
~On the map ascent
~River King
~Discovered the Place Belonging to him
~Kench above the bench. pic.twitter.com/qmF1fvzAnX

— Not Mike - Valorant Leaks & Info (@ValorLeaks) September 24, 2020
Would you like to see more League of Legends crossovers in the world of Valorant? Tell us on Facebook or Twitter!
Register at MyEarlyGame to customize our website to your liking and enter exclusive giveaways. For more Valorant news check our Valorant section.