"These skins will take you from a player to a performer" — This is how Zedd presents the new Valorant skin collection called "Spectrum" which will be available in the game today. Here is everything we know about it so far!

Zedd isn't the only one praising his collaboration with Riot Games! The game's producers themselves say that these are "the most ambitious skins ever to grace Valorant". It's hard to argue because they look genuinely fabulous and much better than we all expected. When we wrote about these skins some time ago, we heard a lot of feedback like, "this melee weapon is a joke/I'm already tired of all these melee swords". It seemed that this would be another overhyped bundle, but it turns out that we're going to get some of the most polished weapon skins in a long time.
Zedd Spectrum Skins: Weapons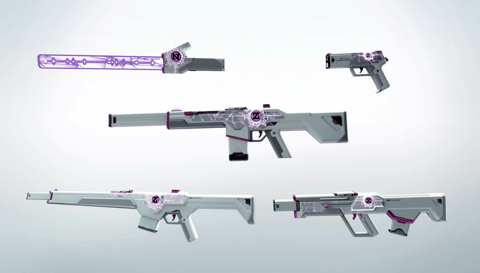 The Spectrum skin line will be available for five weapons, including:
Melee Weapon
Phantom
Guardian
Bulldog
Classic
Moreover, Spectrum weapon skins are upgradeable! They come in 4 different variants — Default (White), Black, Red, and Purple. On top of that, we also get some animations and VFX. Let's see what we can exactly get by upgrading our Zedd Spectrum skins:
Level 1 — Custom model with custom ADS reticle that changes color as you move.
Level 2 — Custom muzzle flash and firing audio; muzzle flash color changes as you move.
Level 3 — Custom equip and reload visual effects and audio; visual effects and accent colors change color as you move; custom inspect sound that is unique for each weapon and pulses to the beat of the sounds.
Level 4 — Kill Banner and Finisher (Finisher colors change depending on location and whether the Spike is planted).
Zedd Spectrum Skins: Release Date & Cost
The Spectrum skin collection will release along with Patch 3.05 (September 8th, ~06:00 PM CEST) and will cost 10,700 Valorant Points (~$99). This is by far the most expensive bundle in Valorant. Interestingly, there will be no option to buy individual skins; for now, you will only be able to buy the whole collection. Moreover, to access other variants and get all these VFX and animations, you will also have to spend some Radianite Points. For example, to unlock all color-changing features, you'll need to level up your skin to Level 3 (which might cost 30 to 60 Radianite Points). That being said, to get the entire "spectrum" of game experience with Zedd skins, you will have to spend a little over $120.
We just started another Valorant giveaway, join our Discord for more details! Don't forget to also join MyEarlyGame for even more giveaways, community tournaments, content customization and many exclusive features.