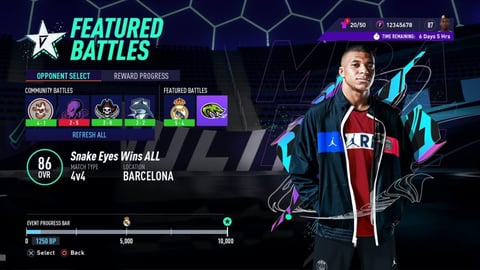 Last year EA Sports introduced the street football mode VOLTA. It wasn't exactly a smash hit with fans, but EA aren't giving up and are bringing the mode back for FIFA 21. We can expect some interesting new features, especially concerning the FIFA 21 VOLTA multiplayer.
VOLTA gets the most attention in FIFA 21 development, besides FUT of course. EA Sports are trying to improve on FIFA 20's fairly disappointing rendition of the mode. These improvements include:
New Skill Moves
VOLTA is all about fast attacking football and having fun. Skill Moves are certainly one way to aid that side of the game. Players with 1-3 Skill Moves stars can perform simple tricks, while players with 4-5 stars can perform more complex special moves, including tight flicks, ball roll flicks and more. 5-star skillers will even be able to incorporate their special moves into shots or passes.
The new agile dribbling system will be available in VOLTA. A new Nutmeg control system will also be introduced to the mode, making it easier to dribble past opponents.

Revised Shots and Defense
The shooting system has been reworked to fit better on the small FIFA 21 VOLTA pitch. Shots can now be executed with increased power and precision. Among other things, this should enable powerful shots from a long distance. In games without goalkeepers, goal finishes must also be executed with even greater precision in order to land in the net.
At the same time, EA Sports have also been working on defense. Human and AI players will be better at blocking shots, which is essential in VOLTA. The new Attacking Intelligence feature of FIFA 21 is also coming to VOLTA. With it AI players should act smarter and run better into free spaces.

VOLTA Squads: New Online Modes
Also new are the VOLTA Squads in FIFA 21, which allow you to play quick drop-in games online with a group of up to three friends or alone. With your VOLTA avatar you join an online lobby and play with a team of human players against another team.
The team captain chooses jerseys, team names and venue, as well as possible AI players for the open positions. All other players can choose their own position except the goalkeeper.
Divisions
Similar to FUT there will be several divisions in FIFA 21 VOLTA. For higher divisions and ranks you will unlock exclusive rewards, including VOLTA coins and special equipment for the VOLTA Squads mode.
There are five ranks within each division, with rank 1 being the highest. Special events can be completed each week, unlocking additional time-exclusive rewards.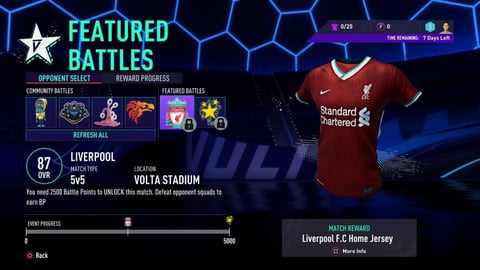 Featured Battles
Within the weekly events there will be so-called Featured Battles. In these battles you will compete against AI-controlled teams to earn Battle Points. You can also unlock exclusive rewards in the form of coins or customization items. Each event will feature up to two featured matches, with additional unique rewards.
In these matches, you will compete against special teams of current superstars such as Kylian Mbappé, Icons or special talents. If you win, you can recruit players from the team. In addition, only the Featured Battles will allow you to unlock official jerseys of top teams, which should provide an additional incentive for fans.
The Debut Tutorial with Kaká
Football legend Kaká introduces you to the world of VOLTA both on and off the pitch in the extensive Debut Tutorial. During the two-to-three hour introduction you will unlock new locations, improve your avatar's values, learn strategies and receive unique rewards.
The story revolves around your team and its journey around the world to meet some of the legends of the sport. The Streets & Icons Tournament in Dubai is the ultimate goal that you and your team are working towards. There are five new locations in the game: Sao Paolo, Paris, Sydney, Dubai and Milan.

Improve your avatar by completing games, as well as special training tasks that focus on special moves, defensive work, goal scoring and more.
Ghost of Tsushima: The Beauty of the PS4 Exclusive Title
View gallery
New Equipment
FIFA 21 VOLTA will be regularly updated with new equipment that connects the world of football with the world of fashion. This includes equipment from well-known manufacturers in the field of street football, professional football clubs and fashion lines designed by stars.
Avatar Progress
The progress system of the VOLTA avatar was revised so that he is able to improve the most important values faster. After each game your player will receive a rating based on his performance. The higher the rating, the faster the advancement for your avatar.
Depending on the position of your player (i.e. defender, midfielder or striker) the attributes will increase at different rates.
Stay with EarlyGame for more quality FIFA content. You can also check our YouTube channel for some visuals if reading's not your main thing.