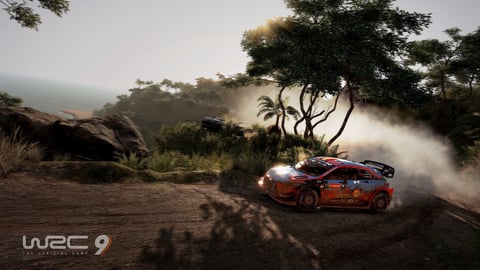 With the handbrake on, we drift around the hairpin turn. Five cars on the right and two on the left. Our wheels lose traction as we go into a slide. WRC 9, the official game for the FIA World Rally Championship is nothing less than the biggest racing game of the year.
Codemasters' DiRT Rally 2.0 has always been the top dog in racing games. But in our playthrough of WRC 9, it is on a par with its competitor and is now a candidate for racing game of the year.

Quick Facts About WRC 9:
Developer: KT Racing
Publisher: NACON
Genre: Racing Game
Release: September 3, 2020
WRC 9 - Better Than Ever Before
Since 2015 WRC 5's license for the FIA World Rally Championship has been in the hands of the French development studio KT Racing. The series has continued to grow but has never been able to catch up with Codemasters until now.
In WRC 9 we will compete with the official cars of the 2020 World Rally Championship. We will also drive in 13 official events around the globe. Of course, brand licenses are all well and good. But what about the graphics and the gameplay?
WRC 7 and 8 saw significant improvements in each new iteration of the game, but WRC 9 is the most intense, atmospheric, and challenging racing game of 2020.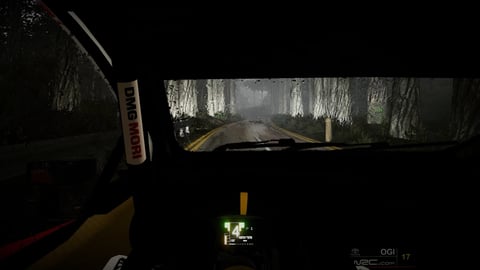 WRC 9 Gameplay
Racing Games and Rally Simulations are two different sub-genres but do share some similarities. Both take a lot of concentration to drive a 500 HP racecar around an iconic track. Both have Driving errors and lap time and of course, both have you spinning out of control and crashing into walls or other racers.
But just imagine this:
Driving a powerful rally car on the icy track in Monte Carlo at almost 200 km/h on a track that is hardly wider than the car itself. To your left, it banks a hundred meters downhill into a valley.
If that doesn't get your heart racing maybe you're playing the wrong game genre.
Rally is brutal! There is no such thing as an easy stage in rally car games. In WRC 9 every driving mistake is mercilessly punished. Racing genre veterans, remember this style of challenging gameplay from the legendary ColinMcRae Rally in 1998.
But rally games have never been as intense, playable, and beautiful as WRC 9, making this game revolutionary.

Unser @pbriel23 testet heute fur uns #WRC9 @WRCTheGame - ein paar Impressionen#simracing #eracing #WRC pic.twitter.com/VZjAS0BeFl

— EarlyGame DE (@earlygamede) August 30, 2020
Career mode
WRC 9 is a hard game, even for professionals. This is the nature of rallying. But KT Racing has succeeded in making the simulation as beginner-friendly as possible. In the career or training mode, we are gently familiarized with the driving behavior in slower vehicle classes.
Here we work our way up the career ladder, from a newcomer in the Junior WRC class to a professional in the highest league. WRC 9 is making noticeable improvements and shows us how a career mode in a racing game should look like.
While in Project Cars 3 we grind until our eyes close with fatigue, in WRC 9 varied events and challenges provide long-term motivation. At the same time, the game has copied the research and development of F1 2020 with a skill tree where we unlock new upgrades for our team.
In addition, we regularly recruit new employees, attract sponsors, and steer the fate of our racing team. The WRC 9 career mode is finally on a par (if not better) with the big name of the genre: F1 2020.
WRC 9 Graphics on PC
Fortunately, WRC 9 eliminates almost all criticisms we had of WRC 8. For example, the graphics, which could never keep up with DiRT Rally 2.0.
In WRC 9 there are impressive special effects, detailed car models and incredibly chic weather effects. WRC 9 is definitely ready for the next-gen of gaming as it will be released for PS5 and Xbox Series X. We were shocked that the PC version we tested ran smoothly at 120 FPS. Also, the sound was incredibly realistic and immersive.
On the other hand: the handling. The previous WRC games never handled very well or at least not as good as other racing games. However, in WRC 9, we liked the handling even better than its competitors, especially with a steering wheel.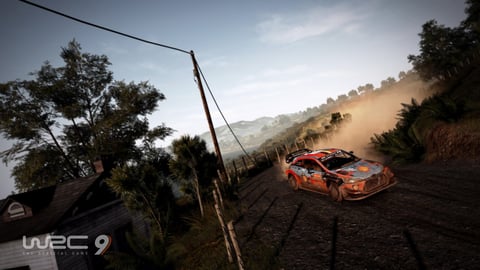 In rally car games the steering should be very precise. Like when you are drifting with the handbrake on or using the emergency brake before the next hairpin. All should be implemented accurately. But what is particularly impressive is when we feel every bump and every loss of traction in our hands.
We played WRC 9 with the brand-new Logitech G923 Trueforce steering wheel and it's unbelievable how the track feels with it. We can feel when we turn from frozen asphalt to a snow-covered country road. We can feel when the suspension kicks in after a light crash. It's an unbelievable feeling when playing this game with this great steering wheel.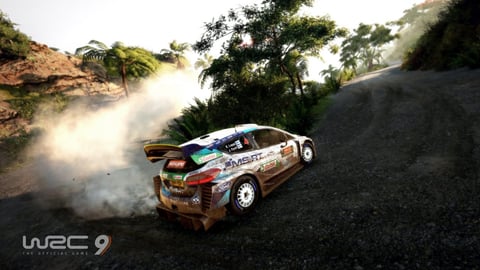 Multiplayer and Esports
The WRC series has been firmly anchored in esports for years despite its technical weaknesses. But WRC 9, will take the competitive scene to a new level.
We compete online with other players in different rallies, set all the stages ourselves, or race for the best time in real rally events. On top of that, the developers will provide us with a brand new club system, where we can adjust every setting for our own championship - this opens up a new kind of competitive tournament for WRC 9. We look forward to the fun online competition brings.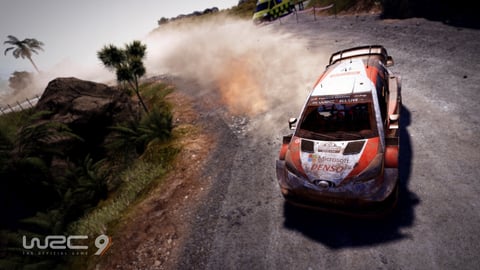 Verdict on WRC 9
WRC 9 is the surprise racing game of the year. Forget all the Project Cars', Moto GPs and F1's - WRC 9 is a hot contender for racing game of the year. It's impressive what developer KT Racing has pulled out their hat.
Within a year, the WRC series has evolved from a rock-solid, but not entirely technical racing game, to an impressive simulation. WRC 9 authentically captures rallying and keeps us glued to the screen for hours. The fanbase of WRC 9 should only get bigger and in any case, nobody should miss this racing game.

The best racing games of the decade: our Top 10

View gallery
As always, you can read more about gaming and esports on EarlyGame. We introduce you to the best tracks in racing games and other e-racing news.