The Call of Duty released in late-2024 is going to be the next game from Treyarch (the studio behind Black Ops). We've suspected for a while that it would take place in the early-90s during the Gulf War, and now yet another leaker has corroborated this theory.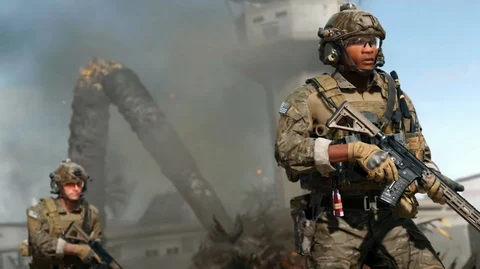 The Call of Duty coming out in late-2023 is going to be Modern Warfare 3. It will be very similar to Modern Warfare 2, and it is most likely going to follow Ghost in a kind of spin-off campaign. But after that game, we have CoD 2024 to look forward.
Because it's being made by the team who make Black Ops, we can already make a few predictions. We think it will have a longer TTK than most Call of Duty games, we expect the art style to be vibrant and cartoony, and we think red dots will return to the minimap. But we don't think we need to call the setting a "prediction" anymore, it seems to now be all but confirmed that CoD 2024 will be set during the Gulf War.
If you're a fairly committed Call of Duty fan, head on over to the main hub for CoD 2024 and you can read absolutely everything we know about this game. But if you only want a quick peek at the most recent corroboration of the Gulf War theory, keep reading.
More Leakers Corroborate "Call of Duty: Gulf War" Theory
CoD_Perseus, who has given us correct intel as far back as 2021 (their first solid leak was about a Zombies map in Cold War), has also confirmed that Call of Duty 2024 will be set during the Gulf War:
its been known that cod 2024 takes place during the Gulf War since the WZM leaks

— CoD_Perseus (@CoD_Perseus) July 7, 2023
It really makes perfect sense after Black Ops Cold War that they would want to continue chronologically and move into the Gulf War. The 90s will give them access to modern weapons, which gamers are accustomed to, and it's also a fairly untapped war in the gaming space, so it should feel refreshing to players.
Their approach to Saddam Hussein won't be subtle, but no one is going to CoD for a thought-provoking story.
Let's hope we get none of this in Black Ops Gulf War:
This article contains affiliate links which are marked with [shopping symbol]. These links can provide a small commission for us under certain conditions. This never affects the products price for you.