The Vaznev is a really great SMG, and the more mobile players amongst you are going to want to give it a try. However, for lower-skilled players we would advise the Lachmann Sub instead. Anyway, here's the best loadout in Warzone 2 for the Vaznev-9K

As we've seen in MW2's multiplayer, the Vaznev has become a great choice for higher-skilled players. Why? Because the mobility and strafe speeds are excellent, and so if you can take advantage of these benefits you can really dominate. It doesn't hurt that the Vaznev has one of the most impressive TTKs of all the SMGs, alongside the Lachmann Sub and the Fennec 45.
You can find the best attachments for the Vaznev-9K below, and we've included exact tunings and unlock paths.

The Vaznev is very much a part of the meta, if you want a current overview of what else is in that spot then check out the best weapons in Warzone 2.
The Best Attachment Setup For The Vaznev-9K In Warzone 2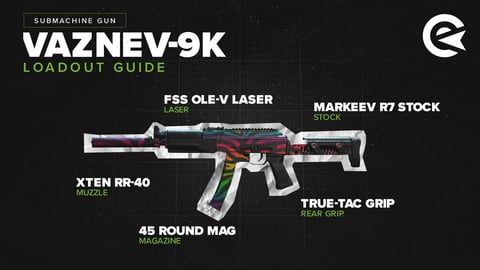 | | | | |
| --- | --- | --- | --- |
| Slot | Attachment | Unlock Requirements | Attachment Tuning |
| Muzzle | XTEN RR-40 | PDSW 528 to Level 13 | Aim Down Sight Speed (-0.90 oz) / Bullet Velocity (+0.70 in) |
| Laser | FSS OLE-V Laser | EBR-14 to Level 10 | Default |
| Stock | Markeev R7 Stock | Kastov 762 to Level 10 → Kastov 545 to Level 13 → Kastov-74u to Level 15 → Vaznev-9K to Level 14 → Minibak to Level 9 | Aim Down Sight Speed (-2.80 oz) / Aim Walking Speed (-1.60 in) |
| Rear Grip | True-Tac Grip | Kastov 762 to Level 10 → Kastov 545 to Level 13 → Kastov-74u to Level 15 → Vaznev-9K to Level 10 | Aim Down Sight Speed (-0.65 oz) / Sprint To Fire Speed (-0.30 in) |
| Magazine | 45 Round Mag | Kastov 762 to Level 10 → Kastov 545 to Level 13 → Kastov-74u to Level 15 → Vaznev-9K to Level 11 | Default |
We're assuming users of the Vaznev have decent gunskill, so we aren't going to sacrifice any of it's best-in-class mobility for extra recoil control. Instead, we're focused on increasing our mobility and handling as much as possible. The only exception to this is the suppressor, but the added range that suppressors can lend SMGs is hugely beneficial.

Some folks just hate the AK / Kastov iron sights, so to those players we would advise dropping the laser for a Slimline Pro 1x optic.
The Vaznev-9K requires you to level three other weapons to unlock, so do yourself a favor and make the grind far more bearable by picking up a copy of Modern Warfare 2.
The Best Loadout For The Vaznev-9K: Secondary, Perks & Equipment
Secondary: TAQ-56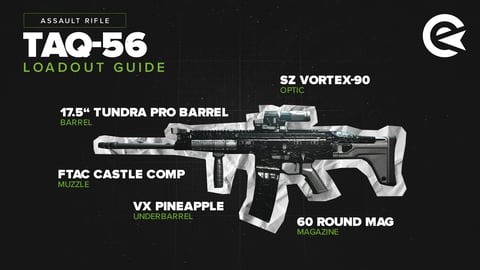 Alongside an SMG you're going to need a ranged option, and right now we can't recommend the TAQ or the RPK highly enough. These are both "powerhouse" weapons, and they're dominating the early meta in Warzone 2.

The above build is focused on extending the range of the TAQ, but if you want something snappier you could exchange the optic for a laser. The iron sights are excellent on the TAQ, so it isn't a huge sacrifice.
For a complete guide to the TAQ, including tunings and unlock paths, check out our TAQ-56 loadout guide.
Perks (Base, Bonus & Ultimate)
Since we can no longer choose our own perks in Warzone 2.0, we have to choose one of the pre-made perk packages. Here is the best perk package in Warzone right now:
| | |
| --- | --- |
| Perk Package | Recon |
| Base Perk | Tracker, Double Time |
| Bonus Perk | Focus |
| Ultimate Perk | Birdseye |
Birdseye is like having a near-permanent Advanced UAV, which makes it by far the most valuable Ultimate Perk. And Recon is the only package that contains Birdseye, so it's a must-pick. Alongside Birdseye, you get Focus, which is good because it gives you a universal buff to stability while ADS'd. While both Tracker and Double Time are also great in Warzone.
Equipment (Lethal & Tactical)
We favor aggressive equipment choices for our SMG loadouts:
| | |
| --- | --- |
| Lethal | Stims |
| Tactical | Throwing Knives |
Stims are great for fast players as they allow you to reset more quickly after a chall, and Throwing Knives will help you make sure you get the kill on any downs.
You'll be pleased to know the Vaznev makes it into the S-Tier in our complete tier list of every weapon in Warzone 2.

This is a promo that's well-worth checking out for free War Tracks:

This article contains affiliate links which are marked with [shopping symbol]. These links can provide a small commission for us under certain conditions. This never affects the products price for you.