The VEL 46, or MP7 as you more likely refer to it, is a good all-rounder SMG that we think most players will enjoy. It's not the best SMG in any one department, but it's reliable. You can find the best loadout for the VEL 46 in Warzone 2 below.

I'm not going to lie to you fellas, the VEL 46 is not the best SMG in the game. But you know what? It's reliable, it's comfortable to use, and it's absolutely viable. So if you love the MP7 and want to use this puppy, you should. Plus, with the current best SMGs right in the crosshairs for a future nerf, the VEL 46 could quite easily rise into the meta with a good patch.

So, if you're still interested in a great VEL 46 build, we have the attachments and tunings you want below.
The Best Attachment Setup For The VEL 46 In Warzone 2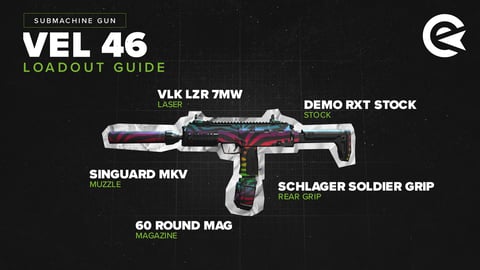 | | | | |
| --- | --- | --- | --- |
| Slot | Attachment | Unlock Requirements | Attachment Tuning |
| Muzzle | Singuard MKV | VEL 46 to Level 16 | Aim Down Sight Speed (-0.90 oz) / Bullet Velocity (+0.70 in) |
| Laser | VLK LZR 7MW | STB 556 to Level 5 | Default |
| Stock | Demo RXT Stock | VEL 46 to Level 23 | Aim Down Sight Speed (-3.00 oz) / Aim Walking Speed (-1.70 in) |
| Rear Grip | Schlager Soldier Grip | VEL 46 to Level 25 | Aim Down Sight Speed (-0.70 oz) / Sprint To Fire Speed (-0.30 in) |
| Magazine | 60 Round Mag | VEL 46 to Level 18 | Default |
The VEL can feel slow with the 60 round mags, but we love having the firepower for whole squads, so we've focused our attachments on increased handling speeds where possible. The exception to this is the barrel, but the Singuard suppressor gives noticeably increased range, and this allows the VEL to be competitive out to 25 meters.
If you want something even faster consider dropping down from a 60-round mag to a 50-rounder.
The Best Loadout For The VEL 46: Secondary, Perks & Equipment
Secondary: TAQ-56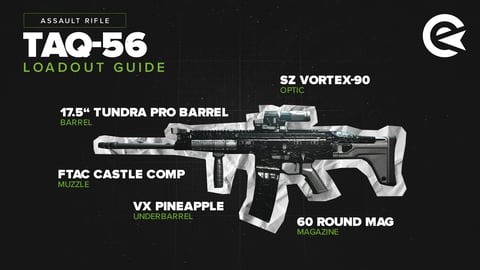 The TAQ is undoubtedly the best AR right now, although the RPK is also a very strong option for range. We've been loving the above build because it offers us a good balance of recoil control and damage at range, but if you want something a little faster than ditch the optic for a laser.
Perks (Base, Bonus & Ultimate)
We can't pick our own perks and need to choose "Perk Packages" instead, as you all well-know by now. And of all the Perk Packages we're most persuaded by the Specter Package right now:
| | |
| --- | --- |
| Perk Package | Specter Package |
| Base Perk | Double Time / Tracker |
| Bonus Perk | Spotter |
| Ultimate Perk | Ghost |
Ghost is clutch when everyone starts popping the UAVs they've been saving for the end-game, and so we chose one of the two Perk Packages that includes it. Of the two, we favor the Specter Package because we also get Double Time and Tracker, which are both great perks. But, of course, Spotter is very situational.
Equipment (Lethal & Tactical)
For our equipment choice we're going a little more aggressive for our SMG players:
| | |
| --- | --- |
| Lethal | Throwing Knives |
| Tactical | Flash Grenades |
Throwing Knives can quickly guarantee you kills when you get the down, and Flash Grenades are straight up broken right now, so they're great on the push.
If you're interested to see how the VEL compares to other weapons, here's a complete tier list of every weapon in Warzone 2.

By the way, don't miss out on this new promo for free War Tracks:

This article contains affiliate links which are marked with [shopping symbol]. These links can provide a small commission for us under certain conditions. This never affects the products price for you.