Caldera can look stunning, provided you have the right graphics settings. But what are the best graphics settings for Warzone Pacific on PC?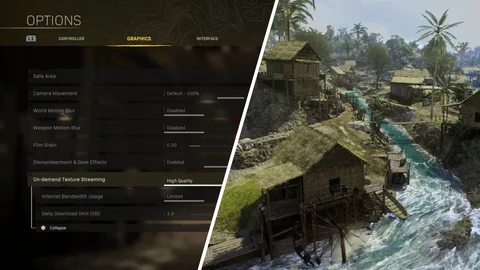 Warzone's new Pacific map is finally here - Caldera. It really does look as beautiful as the promotional material boasted...provided you have the right settings. The trick is in choosing the right options to maintain a good resolution while keeping your frame rate as high as possible.
Note: This guide is for PC users, on console, you don't have these options, so you can't boost your frame rate.
What Are The Best Settings For Caldera?
Graphics
Display
Display Mode - Fullscreen (This will guarantee the best frames, but you might be able to reach your monitor's max capability and still play in the windowed mode if you want)
Screen Refresh Rate - Set this to exactly what your monitor is, no less or more.
Dynamic Resolution - Disabled (it will lower resolution for frames)
Sync Every Frame (V-Sync) - Disabled (counterintuitively, this is well worth turning off)
Framerate Limit - Disabled (Unless you want to avoid overclocking hardware)
NVIDIA Reflex Low Latancy - Enabled + Boost (Obviously if you don't have an NVIDIA card then this doesn't apply to you).
Quality
Texture Resolution - Low
Bullet Impacts & Sprays - Disabled (A lot of you might really dislike how the game feels once you've disabled this, but it will help your frame rate ever so slightly)
Dismemberment & Gore Effects - Disabled
On-Demand Texture Streaming - Disabled (Prevents packet-burst)
Post-processing Effects - All disabled / Set to 0

Raytracing disabled
Interface
There's an interface change that we're including, even though it doesn't directly boost your frame rate. Making the beneath settings changes to the heads-up-display will allow you to maintain awareness on the situation around you while checking the HUD more fluidly.
HUD
Horizontal Heads-Up Display (HUD) Bounds - 100
Vertical Heads-Up Display (HUD) Bounds - 100
And with those settings changes you should find yourself with the highest frame rate in Caldera that your PC can handle.
Looking to get the perfect loadout for the new Warzone map?