It's spooky season soon, also in Warzone. Just in time for Halloween, players will be able to get their scare on in the new event "The Haunting". See everything we know so far right here!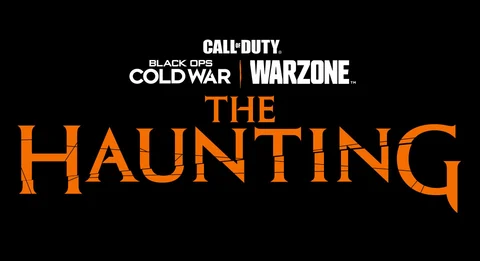 Just like last year with Black Ops Cold War, Season 6 will be the last season before the release of the next Call of Duty game. Vanguard will be released on November 5, and will start a new season cycle for Warzone. Activision just rolled out the roadmap for Season 6, and in it, announced a new Black Ops Cold War & Warzone event - The Haunting.

Activision have been pretty tight-lipped about the new event so far, and more details will arrive in a couple of weeks. But there are still a few pieces of info that we have for you here about the new Warzone Season 6 event The Haunting.

Warzone Season 6: The Haunting Release Date
The Haunting is coming out across Warzone and Black Ops Cold War on October 19. The seasonal event will run until November 2. So it will come out just in time for Halloween, which is on October 31... just in case you somehow didn't know that.
Activision also announced that there will be a specific announcement for The Haunting on October 18. So check the Call of Duty blog again on that date for even more details about The Haunting.
You are done with Black Ops Cold War and want to know more about the upcoming Call of Duty: Vanguard? Then we have the perfect content for you:
Black Ops Cold War Season 6: The Haunting Details
As the name very strongly suggests, The Haunting is going to be a Halloween-themed event. As I said, Activision are not giving out too much just yet. But their wording hints to the fact, that The Haunting is going to be based on horror movies:
We hope you like scary movies… Ready to battle in a true horror movie nightmare?
So, can we expect new Operator skins based on famous horror movies? We want to walk around in Warzone as Leatherface or Freddy so badly, but considering that it's just a short seasonal event, there will most likely just be some specific challenges with unique rewards, similar to how "The Numbers" worked. This is all just speculation at this point.
However, we know about one thing that's going to come in The Haunting...
Black Ops Cold War & Warzone Season 6: The Haunting Weapons
There are going to be two unique weapon blueprints as part of The Haunting.
LAPA: SMG (In-Season) – Full-auto submachine gun. Lightweight prototype with reliable damage and good firing control. Improved handling and range with a slower fire rate. (Available as an event reward or in Store Bundle)
Hammer and Sickle: Melee (In-Season) – Dual wield melee. A powerful union between industrial and agricultural tools. Demonstrate the strength of labor with deadly melee attacks at close-range.
Honestly, both these weapons look awesome, especially the Hammer and Sickle. Very cheeky, that one. We are sure the sheer power of that new melee weapon will revolutionize the workforce, one melee kill at a time. We are definitely very excited to see them in action when The Haunting comes out on October 19.
Read More:

Welcome to EarlyGame, your one-stop-shop for everything Esports and Gaming. Check out MyEarlyGame for an exclusive and customizable experience, and to become part of the EarlyGame family. Get engaged on Twitter and Facebook.