The first Major of the CDL season is here. In this article you'll be able to find a complete overview of the event: schedules, results, and qualifying Challenger teams.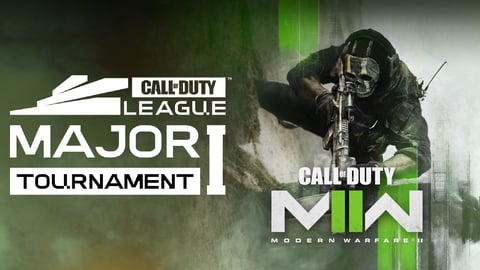 The 2023 season of the Call of Duty League has launched with great success. After a wild rostermania, the League decided to start the season early in December (normally we have to wait until February for matches to begin), and this change, in addition to the move to Twitch, has seen record-breaking viewership. Plus, the matches themselves have been great, with tons of nail-biter maps and the most enjoyable Control we've seen since BO4.
But all the new comp-CoD fans are in for an even bigger treat as the first LAN event of the season begins this week: Major 1. If anything, it's even more exciting than a usual Major because this is a Pro-Am event, meaning that four of the best Challenger teams (the division below pro) will also be competing alongside the top 48 players in the world. In this article we'll give you an overview of how this event will work, as well as providing the schedule, bracket, and results.
CDL Major 1: Overview
Across the course of a CDL season teams compete for two or three weeks in online matches, and the results of those online matches give us the seeding for double elimination LAN events called Majors. If you win an online match you get 10 points, but if you do well at a Major you stand to earn up to 65 points.
Plus, if a player wins an event then they earn what's called a "chip", and it goes down in history. Basically, online matches are important, but it's really all about showing up on LAN and winning Majors.
But Major 1 is different to most majors because it doesn't just involve the 12 CDL teams, we will also see amateur teams competing as well. Here's how the event will work:
Eight of the best Challenger teams from around the world (three from NA, three from EU, one from APAC, and one from LATAM) will play each other in a "Qualifiers Stage" on Wednesday. The four best Challenger teams from the starting eight will progress through to the "Group Stage", and the losers will be eliminated.
In the "Group Stage" we will see four different groups (each consisting of one Challenger team and three pro teams), competing in double elimination brackets to produce a first seed and a second seed for each group. The first and second seed from each of the four groups will progress to the single elimination "Tournament Stage". The third and fourth seed from each group will be eliminated.
In the "Tournament Stage" the top eight teams from the entire event will play each other in a double elimination bracket. The "Tournament Stage" will take place on the Saturday and Sunday, and every match will be broadcast on the main channel.
Sadly, there are so many matches to get through that streams C & D probably won't have casters.

CDL Major 1: Qualifiers Stage
This stage is about taking the top eight amateur teams from Challengers and whittling them down to just four, who will go on to compete with pro teams. This part of the event happened on the Wednesday and Thursday.
The amateur teams who made it through to the group stage were: Elevate (EU), Decimate (NA), LAG Academy (NA), and Pollodrom (EU).

CDL Major 1: Group Stage
In this stage 12, pro teams and four Challenger teams will be put into four groups of four, and they will then play a double elimination tournament with each other to produce a first seed and a second seed. The first and second seed will go on to the Tournament Stage on the weekend.
Schedule: Group Stage Day 1
| | | | | |
| --- | --- | --- | --- | --- |
| Match | A Stream | B Stream | C Stream | D Stream |
| 1:30PM ET (10:30AM PT / 6:30PM GMT / 7:30PM CET) | OpTic vs. Florida | LAG vs. NYSL | Toronto vs. Pollodrom | Mineesota vs. Decimate |
| 3:00PM ET (12:00PM PT / 8:00PM GMT / 9:00PM CET) | FaZe vs/ LAG Academy | Boston vs. Elevate | London. vs. Seattle | Vegas vs. LAT |
| 4:30PM ET (13:30PM PT / 9:30PM GMT / 10:30PM CET) | Group A Qualifier | Group B Qualifier | Group A Elimination | Group B Elimination |
| 6:30PM ET (15:30PM PT / 11:30PM GMT / 12:30AM CET) | Group C Qualifier | Group D Qualifier | Group C Elimination | Group D Elimination |
Group A Bracket
Group A is probably the easiest group, and Minnesota should have no problem wiping the floor with the other teams, especially if Afro keeps looking like the MW2 MVP. Alongside Minnesota, we think NYSL have the best chance.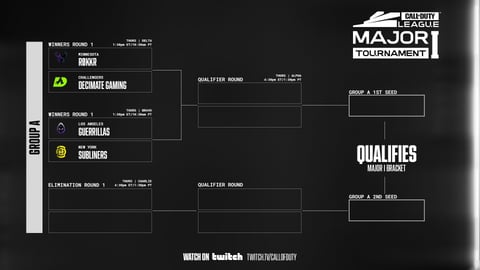 Group B Bracket
Toronto and OpTic look like the clear favorites, but Florida have beaten OpTic the last three times that they've met on LAN. So who knows, maybe OpTic will crack under the pressure again?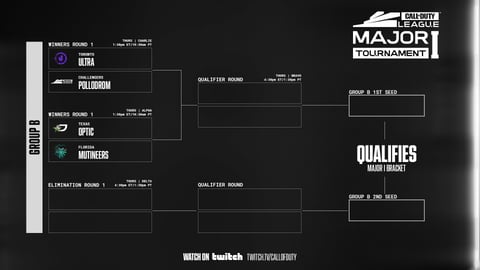 Group C Bracket
This is the obvious "Group of Death", and unfortunately there's almost no chance the amateur team can make it out. FaZe and Surge are two of the best teams in the league, they just had a slow start. And assuming LAT beat London in the tie-breaker matchup, it's very hard to imagine London being able to steal a series off either of them.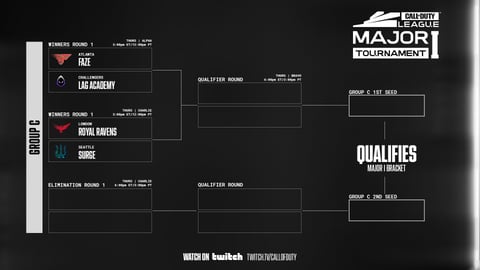 Group D Bracket
This is the "softest" group, and the winner of the LAT vs. London tie-breaker match will be ecstatic to get into this group. Both London and LAT would have a great chance of coming out of this group, with Boston as the second seed.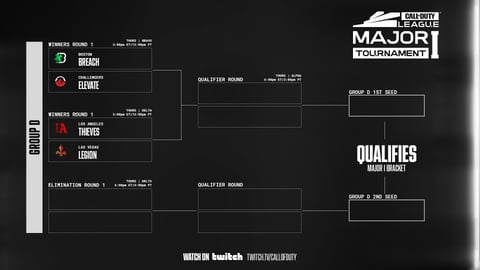 The London vs. LAT Tie-Breaker
London and LAT are perfectly matched in seeding right now, so they need to play a tie-breaker match. The winner of the match will get to go to the easier Group D, and the loser will have to go to Group C. The match will take place off-stream on Wednesday, and it isn't for CDL points or anything, it just decides seeding.
CDL Major 1: Tournament Stage
This is where the Major really begins. Eight teams will battle it out in a double elimination bracket, and for the pro teams they can stand to win the following CDL points:
1st - 65 CDL Points
2nd - 50 CDL Points
3rd - 40 CDL Points
4th - 30 CDL Points

5th Place Tie - 20 CDL Points
7th Place Tie - 10 CDL Points
But what about amateur teams, you may be wondering. For the Challenger players, it's not really about winning (they can't get CDL points anyway). But if any of the amateurs can get this far then it's going to look fantastic in the eye's of talent scouts. And for amateur players who are still fighting to get into the league, that kind of positive exposure is worth far more than event points.
Remember, a lot of pro teams are looking to sign subs and make changes early in the year, and this is the best opportunity Challengers players will have to show they can compete at the top level.
And that, ladies and gentlemen, was your complete overview of Major 1 in the 2023 season of the CDL. We hope you enjoy the matches, and we wish your team every success.
If you're very new to the CDL and want to get a feel for the maps and modes the pros play, check out the CDL Moshpit playlist in MW2 (you can buy Modern Warfare 2 here, if you've come from Warzone).
Expect to see a lot of TAQs this weekend...
This article contains affiliate links which are marked with [shopping symbol]. These links can provide a small commission for us under certain conditions. This never affects the products price for you.