Everyone likes a good double-barrel in a came like Call of Duty: Vanguard. How do you optimize Vanguard's Double Barrel Shotgun, though? Well, with our setup guide of course!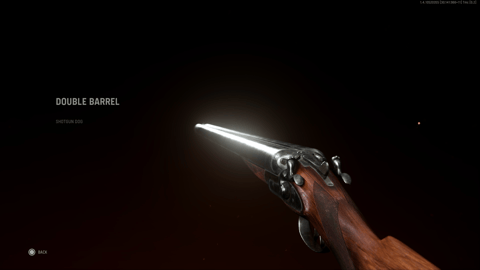 Call of Duty: Vanguard launches with a ton of classic WWII guns, but for every gun, we have an astonishing amount of attachments to choose from, and we can use ten at once. So, where do you even begin? What attachments do you need? Don't worry, we'll give you all the answers in our Vanguard weapon setup guides. And today: the Double Barrel Shotgun.

The Double Barrel Shotgun is a relatively decent weapon in Call of Duty: Vanguard. Generally though, it suffers as all Shotguns do in Vanguard, with general uselessness. There's just something fundamentally off about the game's Shotguns this time around, especially when it comes to the environmental destruction featured in this year's Call of Duty. You would think that a Double Barrel Shotgun would punch right through a wooden wall, but in Call of Duty: Vanguard... apparently not. Anyway, let's give your shotty a bit more oomph with this setup guide!
Check out our tier ranking of every weapon in Vanguard for an idea of how well the weapon places. It's nowhere near the top.
The Double Barrel Shotgun Attachment Setup
Muzzle: SUHL 16 Brake
Barrel: Wilkie Huntsman
Optic: Slate Reflector
Stock: SA 12R
Underbarrel: Mark VI Skeletal
Magazine: 16 Gauge
Ammo Type: Packed Powder
Rear Grip: Fabric Grip
Proficiency: Discard
Kit: Quick
The selection of attachments featured in this setup guide do noticeably more to increase the accuracy of the Double Barrel Shotgun, something that is greatly useful when engaging in fire fights. The Slate Reflector is the obvious optic to use here, so that's no surprise, but the SUHL 16 Brake Muzzle, the Wilkie Huntsman Barrel, and the SA 12R Stock all increase the guns range and lethality. Speed is also a focus here, hence the Quick Kit, and the Discard Proficiency increases your reload speed – something that can be extremely important for a Shotgun. Overall, though, the Double Barrel Shotgun still does not have much Firepower, making it a rather clumsy weapon to utilize.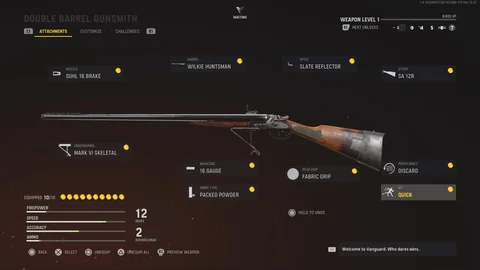 The Equipment & Perks On An Double Barrel Shotgun Loadout
From what we've played so far, the meta loadout will look something like this:

Secondary Weapon: DP27
Lethal: Thermite
Tactical: Stuns
Perk 1: Fortified
Perk 2: Tracker
Perk 3: Overkill
Field Upgrade: Armor Plates
The above will almost certainly be the multiplayer meta for an Double Barrel Shotgun loadout, unless they make some serious balance changes. The Armor Plates in particular are in need of a nerf, but whether one comes... we'll have to wait and see.