Warzone and BOCW Season 6 is just around the corner, and will bring new weapons. What are the new weapons in Season 6?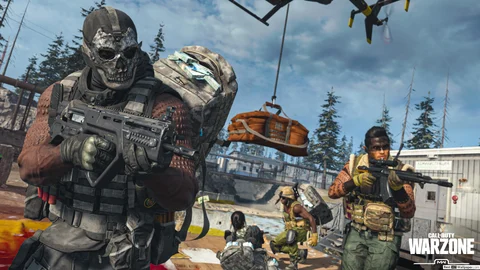 With Season 6 just around the corner, everyone is curious about which weapons will be joining us in the fight. It's the last chapter of Call of Duty: Black Ops Cold War, and the final step before Warzone joins Vanguard in the new Pacific Map. Thus, we need some solid weapons to see us through to the end. What are these Season 6 BOCW and Warzone weapons?

Let's first give you some context. Data-miners concurred with theories about the weapons that were shown in the first trailer for Black Ops Cold War and Warzone Season 6 before the big Roadmap Reveal on Thursday. In the trailer, three characters walk towards the screen, each holding different weapons. These are the weapons coming in Black Ops Cold War and Warzone. Check out the trailer:
At that time, nothing had been officially confirmed yet, as no announcement about the new weapons has been made by Raven Software or Activision. Now that we have the roadmap, we can confirm that the rumors concurred by the Data-miners were, indeed, correct. Well, at least for the most part (rumors suggested a different name for the Grav). Now, with more information available, and Treyarch having finished teasing new Zombies content, it's time to look at all the weapons in Warzone and BOCW Season 6.
What Weapons Are Coming in BOCW and Warzone Season 6?
Grav (Assault Rifle): A Call of Duty classic. Right now the CR-56 AMAX basically does the job of the Galil, but could this be an improvement?
.410 Ironhide (Marksman Rifle): This is some kind of lever action weapon, perhaps a shotgun?
LAPA SM-03 (SMG): A close-range SMG, similar to the Uzi.
Hammer & Sickle (Melee Weapon)
Battle Axe (Melee Weapon
As we said, these weapons have now been confirmed in the announcement of the Season 6 Roadmap. We are especially excited by the LAPA SM-03 in Warzone, which could be a really top-quality addition to the arsenal, if it is balanced properly. Overall this looks like a pretty solid season in terms of weapons.
What is the LAPA SM-03 in Warzone & BOCW?
The LAPA SM-03 is a lightweight SMG that is coming to both Warzone and Black Ops Cold War Season 6. It'll be a pretty nice addition, and we can expect that it will be especially useful in close-quarters combat. This would be the first time that the LAPA SM-03 has been featured in Call of Duty, which is pretty unexpected for a franchise that is literally all about guns. You'd think that pretty much every gun would have been featured at some point, but no, not this one!
We'll have more detailed gun analysis and setup guides very soon. Stay tuned to EarlyGame!
Read More:
Welcome to EarlyGame, your one-stop-shop for everything Esports and Gaming. Check out MyEarlyGame for an exclusive and customizable experience, and to become part of the EarlyGame family. Get engaged on Twitter and Facebook.