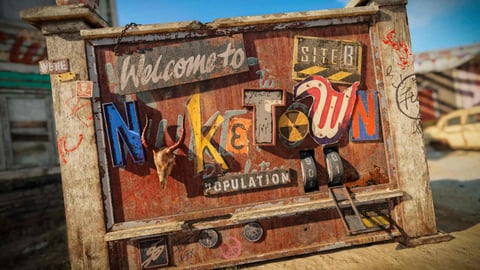 OMGZ, it's here: Nuketown '84, one of the most popular Call of Duty maps, is being introduced to Black Ops Cold War TONIGHT. That's not it though: There's also gonna be double XP on top of that. Yay!
Call of Duty: Black Ops Cold War is a solid game, but there is still a lack of content, especially in multiplayer. With only ten maps, two of which are exclusive to the larger Connected Weapon mode, the game can quickly become monotonous. Now, we are going to get the new map Nuketown '84! The map was already in the roadmap for Season 1 of Black Ops Cold War, but the project was delayed for Season 2.

The Nuketown Weapon Bundle, which rewards you with a shotgun and some cosmetics, preceded the map's release. If you've been playing Black Ops Cold War since launch, you probably already have the bundle in your inventory.
Nuketown '84 and Double XP
Nuketown has been one of the most popular multiplayer maps in the Call of Duty franchise since the first Black Ops game. The map has made it into every part of Black Ops since then and now it reappears in Cold War in a modified form. Tonight, November 24, at 7pm CET, the map goes live with its own 24/7 playlist.
Binging on Nuketown '84 this holiday weekend? We've got good news.

2XP + 2X Weapon XP go live at 10AM PT through Nov. 30, and Nuketown 24/7 begins tomorrow! #BlackOpsColdWar pic.twitter.com/KGsesw2ZXH

— Treyarch Studios (@Treyarch) November 23, 2020
The structure of the map will be familiar to most Call of Duty players. Only the appearance has been adapted to fit in with the Cold War setting. As a little bonus, the first Double XP event for Black Ops Cold War will start at the same time. You will earn double level and weapon XP from 7pm tonight until November 30.
As the leveling of both weapons and profile in Black Ops Cold War is much slower than in Modern Warfare, this event is just what you need. If you finally want to unlock the last items for your favorite weapon or grind a few prestige levels, you should jump at this opportunity.
Stick around EarlyGame for more quality Call of Duty content. You can also check our YouTube channel for some visuals if reading's not your main thing.
Original article by EarlyGame's Lukas Ballat.