We have the best PDSW 528 setup and loadout for Warzone 2.0. As usual, the P90 from Warzone 2.0 is still not a meta weapon, but it can hold its own in close combat.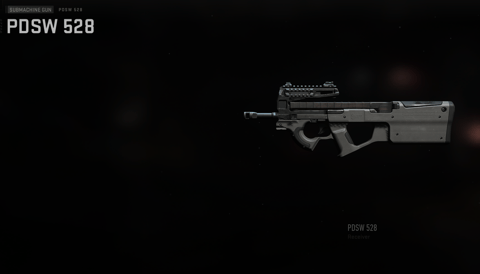 Warzone 2.0 plays much slower than Warzone 1, which means, among other things, that fast SMGs are not quite as incredible as they used to be. Instead, long-range LMGs dominate the current meta, but SMGs still make great secondary weapons.
The P90 or PDSW 528, as it's called in Warzone 2.0, has always been quite disappointing in Call of Duty. Sure, it has a huge magazine, which is great for Warzone, but it also has terrible damage values. This is somewhat balanced out by the fantastic bullet velocity, but overall you're looking at a b/c-tier gun.

Still interested in the P90? You can find the best loadout for this weapon below, including attachments and tunings.


Warzone 2: PDSW 528 Setup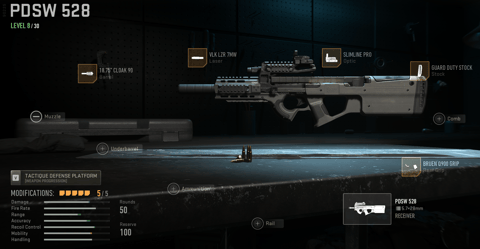 | | | | |
| --- | --- | --- | --- |
| Slot | Attachment | How To Unlock | Tuning |
| Barrel | 18.75" Cloak 90 | PDSW 528 to Level 28 | Aim Walking Speed (-0.35 oz) / Aim Down Sight Speed (-0.30 in) |
| Optic | Slimline Pro | Lachmann-Sub to Level 11 | Aim Down Sight Speed (-0.65 oz) / Standard |
| Laser | VLK LZR 7mw | STB 556 to Level 5 | Default |
| Stock | Guard Duty Stock | PDSW 528 to Level 19 | Aim Down Sight Speed (-1.00 oz) / Aim Walkin Speed (-1.00 in) |
| Rear Grip | Bruen Q900 Grip | Victus XMR to Level 22 | Aim Down Sight Speed (-0.70) / Sprint To Fire Speed (-0.25) |
The PDSW 528 comes standard with 50-round magazines, which is great, so we're focusing on range and mobility in our build. Of particular interest here is the barrel, which increases bullet velocity and range while also having an integrated silencer - so we're skipping the muzzle attachment all together. With the laser and the grip we significantly increase our mobility, i.e. the ADS speed and the sprint-to-fire speed. While, the stock helps a bit with recoil control, and we've chosen our preferred Slimeline Pro for the sight.
When tuning, we go full ADS speed and everything that somehow increases our mobility. The PDSW only works at short ranges anyway, so mobility and handling is particularly important here.
Warzone 2.0 PDSW 528: Secondary Weapon, Perks & Equipment
Secondary Weapon: RPK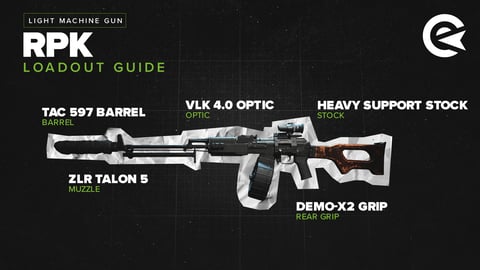 The PDSW 528 is viable in close combat, definitely not at long distances. So we'll take the best long-range weapon in the game as a secondary weapon, the RPK. This LMG remains one of the strongest weapons in Warzone 2.0 by far.
Perks (Basic, Bonus & Ultimate)
Again our standard choice:
| | |
| --- | --- |
| Perk Package | Spectre |
| Basic Perk | Double Time / Tracker |
| Bonus Perk | Spotter |
| Ultimate Perk | Ghost |
The same extras as always, but Specter is the best extra package in Warzone 2.0 at the moment. We get Ghost, which is clutch, and both Double Time and Tracker are a-tier perks. Sure, Spotter is trash, but it's the price we pay for Ghost.
Of course, we have to do without Overkill in favor of Ghost, but we can simply buy the second weapon at a buy station.
Equipment (Lethal & Tactical)
Our favorite combo:
| | |
| --- | --- |
| Lethal | Semtex |
| Tactical | Flashbangs |
The radius of flashbangs is currently extremely large, and the blinding effect lasts for a very long time, making Flashbangs a pretty damn powerful grenade. Semtex is always viable and works equally well against vehicles and infantry - you can't go wrong.
That's all for the PDSW 528. If you're looking for something with more all-rounder potential, try one of the best assault rifles in Warzone 2.0.

What's new in Warzone 2.0?
This article contains affiliate links which are marked with [shopping symbol]. These links can provide a small commission for us under certain conditions. This never affects the products price for you.