In MW2 red-dots were removed from the mini-map. This was very unpopular. But will we get red-dots back in 2023's new CoD game? Or will MW3 also have no red-dots on the minimap?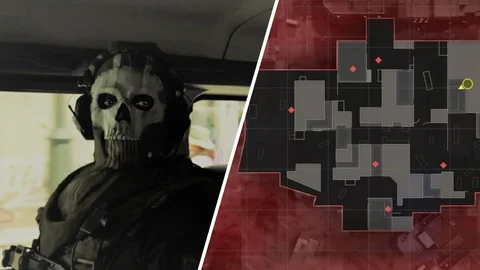 We've just received a lot of new info about the 2023 CoD game: Modern Warfare 3. A lot of the details we recently discovered were exciting, but fans are right to be careful about setting their expectations very high. This is, after all, a glorified map pack.
One of the questions many of our readers immediately had about CoD 2023 was: Will red-dots be back on the minimap? In this article, we look at all available evidence.
Red-Dots On The Minimap: IW Want Them Gone, But Can Sledgehammer Overrule Them?
Infinity Ward's Position
Infinity Ward are the oldest and largest of the three big studios that work on Call of Duty. This is a massive oversimplification, but Infinity Ward are generally known for punishing aggressive play and rewarding newer players, more so than the other two studios, Sledgehammer and Treyarch.
One way in which Infinity Ward have tried to make the game less aggressive was by removing red-dots from the minimap whenever enemies fire unsuppressed weapons. They first introduced this idea in MW2019, and then they reinforced the new rule again in MWII. It was very unpopular both times.
If you're a controller player we can't recommend advanced controllers enough (the paddles will change your life).
Infinity Ward's Control Over Sledgehammer

Sledgehammer are the lead studio working on CoD 2023, so you would think that they could just do what the fans want and not what Infinity Ward want. However, we have some bad news: One leaker (Ralph) is claiming that IW have been given permission by Activision to oversee the development of MW3. In other words, they will get to make the big decisions (like red-dots on the minimap) and Sledgehammer will just be the ones doing the work.
But we have another leaker (Charlie Intel) who is instead claiming that Sledgehammer are being given the full powers of lead studio. You can see an interchange between the two leakers below, Charlie Intel can be heard on the clip saying Sledgehammer are in charge, and Ralph responds to the video with "this is not true". Check it out:
This isn't true.

— Ralph (@RalphsValve) May 11, 2023
Who is right between the two leakers? Honestly, they have both been right on numerous occasions in the past, but whereas Charlie Intel is often optimistic before a new game, Ralph is sounding more like the "realist" here. It's also quite apparent after 20 years of Call of Duty that IW are the golden-child studio for Activision.
Who do you want to be right here? Would you like red-dots on the minimap in CoD 2023, or not?
Here's what we know so far about the game:
This article contains affiliate links which are marked with [shopping symbol]. These links can provide a small commission for us under certain conditions. This never affects the products price for you.