Keep scrolling down to get Weapon Fighting Simulator freebies. All the active Weapon Fighting Simulator codes for June 2023 can be found here.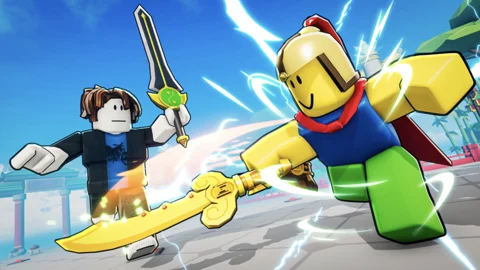 Do you like Roblox fighter simulators? If yes, we highly recommend you try Weapon Fighting Simulator. The game has one of the most exciting combat systems, allowing you to fight against enemies using weapons and spells. The game has high skill requirements, so you only decide whether you'll become the strongest martial arts.
To help you get closer to this goal, we've gathered all the active Weapon Fighting Simulator codes in this article. Players can use them for beneficial boosts that might be useful while gathering resources. Still, each boost works only for 20 minutes.
Want to get resources and progress without spending time on the game? It might be a good idea to check out the Roblox Gift Cards. They can be very helpful!
How To Redeem Codes In Weapon Fighting Simulator
Here is how to redeem codes in Weapon Fighting Simulator:
Open Roblox and launch Weapon Fighting Simulator.
Press the Settings button on the left part of the screen.
Enter the code from this article into the Code text box.
Press the button Enter.
Voila! Boosts are on your account.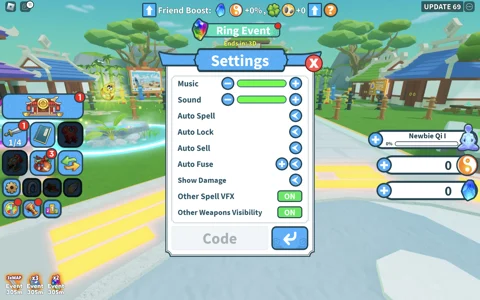 Consider that Boosts obtained by redeeming codes can be stored forever. Feel free to use codes even if you don't have free time to play the game. They might come in handy in the future.
Weapon Fighting Simulator Active Codes (June 2023)
This was last updated on June 6
Check out the list below and find Weapon Fighting Simulator active codes.
ring - Use the code for Spirit Stone Boost, Qi Boost
transformers—Redeem this code for All Boosts (New)
carnation - Use the code for Lucky Boost, Spirit Stone Boost
holo - Use the code for DMG Boost, Qi Boost
mayday - Use the code for Spell Drop Boost, Spirit Stone Boost
gearpacks - Use the code for DMG Boost, Lucky Boost
likemore - Use the code for Spirit Stone Boost, Qi Boost
weaponfighting - Use the code for DMG Boost
welcome - Use the code for Spirit Stone Boost
goodluck - Use the code for Luck Boost
happyday - Use the code for Qi Boost
As the codes are regularly updated, you might face expired codes in this article. In such a case, ping us in the comments so we can update this article and add the expired code to the list below.
Weapon Fighting Simulator Expired Codes (June 2023)
The following Weapon Fighting Simulator codes don't bring any rewards anymore, these are all expired codes:
map35
ascend
easter
map34

necklace
spell
map33
fastmode
arena
map32

reforge

geartrading

like375
map31
oneyear
gear

map30

xmas
map29

sonic
clever
serverboss2
map27
serverboss
map26
candy3
candy2

halloween
jack
candy
map25
newpet
like350
map24
town
map23
hardtrail
map22
visits250m
newbuff
map21
l325k
popsicle
map20
timetrial
map19
skin

lk300k
map18
batoidea

map17
likes275k
fighting
RAMPHobbies
Worrybear

Sub2RoboSlothGaming
Carbon
sisterguard
Skull
funrix
Kingkade
CodeNex
JazonGaming
WFS
hardmode
defense
likes30K
likes20K
likes10000
likes5k
lunarnewyear
world6
achievement

bounty
mount
jade
lk160k
compensation
map9
tower
map8

Likes100K
likes75k
trade
enchant

likes50000
WFS
Likes200K
likes_225K
map13
easter
map12

likes180k
map11
silver
likes120k

likes_140K
wheel
map10
banshies
map16
map15
sword
tradespar
spellroll
map14
Where Do You Get Code Weapon Fighting Simulator Codes?
Even though developers try to add new codes regularly, some players consider rewards insufficient. In such a case, check out the following social media accounts:
You can easily make friends with other Weapon Fighting Simulator players on Facebook. Don't miss this unique opportunity!
While you are here, check our opinion on Jedi Survivor:
This article contains affiliate links which are marked with [shopping symbol]. These links can provide a small commission for us under certain conditions. This never affects the products price for you.