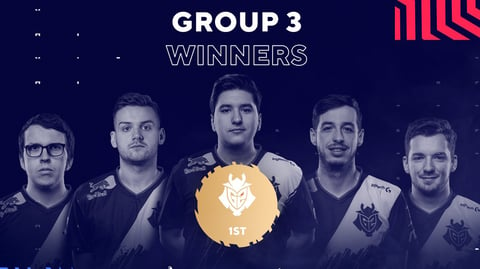 Nikola "⁠NiKo⁠" Kovač and his new team G2 Esports can be satisfied with the Bosnian's first ever event as part of the CS:GO organization. His individual performances were at a traditionally high level and that transitioned into team success as G2 finished top 3 at BLAST Premier Fall Series, thus qualifying for the Finals in December.
NiKo's transfer from FaZe Clan to G2 Esports was as blockbuster of a transfer as we've had since perhaps NiKo's own move to the Clan. These deals don't always play out as they have been planned, something FaZe and NiKo know all about. However, the Bosnian and his new org can only hope that the start of the journey will become the journey itself, because G2's first appearance with Mr. Kovač was nothing short of a success.
Thank Mr @redbullgaming#BlastPremier pic.twitter.com/YdArsl3WLi

— G2 Esports (@G2esports) November 5, 2020
NiKo, G2 Impress at BLAST Premier Fall Series
The battle at BLAST Premier Series Fall was mostly for a spot in the Grand Finals. Half of the twelve participating teams would go on to qualify directly, while the bottom six would only make it into the Showdown - an alternative way to get to the Finals.
G2 were one of those six teams that secured their virtual presence at the Grand Finals. They were placed in Group C alongside Astralis, FURIA and Made in Brazil with the goal of finishing top two. The now very mixed G2 roster did one better by ousting Astralis in the final group game to secure the top spot in the group.
NiKo had a tremendous run in his debut tournament. Besides one bottom-fragging performance on Nuke vs. MIBR, he was from solid to amazing each map of each series. The new G2 star shone the brightest in the decider vs. Astralis where he was by far the best performer on the server.
Just a friendly reminder that our pew pew boys casually slayed their @BLASTPremier group

They're just getting started. #DreamOG https://t.co/fivEwbFkiV pic.twitter.com/L9AGqjUGWJ

— OG (@OGesports) November 5, 2020
The Rest of BLAST Premier Fall Series
FaZe did not manage so well without some Bosnian power. They lost both their games and Olof "olofmeister" Kajbjer looked rustier than an old hangar. That was to be expected of course, but it's still sad to witness. Team Vitality and BIG Clan emerged out of FaZe's group, leaving the latter with the hope things would improve by the time the Showdown arrives.
We've been going in reverse with the groups, so the final one we're left with is Group A. OG proved to be Natus Vincere's criptonyte, beating them twice en route to a first place finish. Na'Vi did manage to finish second and advance to the finals, though. The ones who missed out were Ninjas in Pyjamas and another team that was in good form until recently - Evil Geniuses.

Every November 5th this guy comes back to try to steal our motto

V stands for Victory dear sir pic.twitter.com/O9s1YVLRhp

— Team Vitality (@TeamVitality) November 5, 2020
BLAST Premier Fall Series Final Standings
Group A
OG
Natus Vincere
Ninjas in Pyjamas
Evil Geniuses
Group B
Team Vitality
BIG Clan
Complexity Gaming
FaZe Clan
Group C
G2 Esports
Astralis
Made in Brazil
FURIA Esports
Top two in each group qualify for the BLAST Premier Fall Finals. Bottom two proceed to the BLAST Premier Fall Showdown.
The Finals will take place on December 8-13. The Showdown is a couple of weeks earlier - on November 24-29.
Stay with EarlyGame for more quality CS:GO content. You can also check our YouTube channel for some visuals if reading's not your main thing.