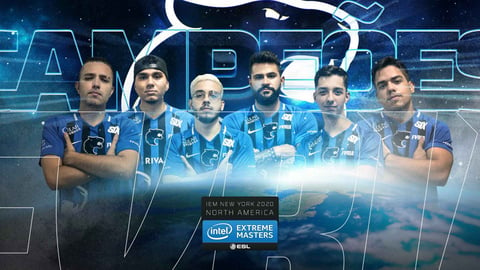 FURIA Esports are showing dominance in (hopefully) the final weeks of the CS:GO online era. The Brazilian team won back to back titles after beating 100 Thieves, again, to lift the trophy at IEM New York North America. The final was a bit more competitive this time, but FURIA were still in control throughout.
FURIA have consolidated their place as the most successful team in the North American region during the coronavirus online era by winning their fourth trophy since June, third out of the last four. they participated in.
IT'S ALL OVER AND @Furia ARE THE #IEM NEW YORK 2020 NORTH AMERICAN CHAMPIONS! https://t.co/fTBRGuUiMV pic.twitter.com/qU904h59KX

— Intel(r)ExtremeMasters (@IEM) October 18, 2020
FURIA Go Back to Back with IEM New York Victory
FURIA's surprise loss to New England Whalers in the group phase meant they started their IEM New York playoff push a round earlier than expected. This almost cost the Brazilians a title as Team Liquid came agonizingly close to winning the quarter-final. Once that scare was overcome, FURIA kicked it up a gear and came away with the pair of victories they needed for the trophy.
Evil Geniuses, who had already lost to FURIA in the group 0-2, were not able to do any better in the semifinal. That set up a rematch between ESL Pro League Season 12 North America finalists FURIA and 100 Thieves. Back then, the Australians could not win a map, but to be perfectly honest, they did not lose three maps either, despite the result showing 3-0.
There was no default map advantage to aid FURIA this time and they did find themselves a map down after a great Nuke performance by the Aussie boys. Sadly for them, a neck-a-neck Inferno was lost in the final round, which propelled the South American team to much easier wins on Vertigo and Mirage.
That was in most likelihood 100 Thieves' final CS:GO match. Reports suggest that the organization is looking to pull out of the scene, which is a pity, especially considering recent improvements. The rumored transfer of star player Justin "jks" Savage to Complexity Gaming is part of the reasoning behind the decision.
With the win, FURIA have secured $25,000, 2,500 RMR points, and a place in the IEM Global Challenge in December.
Stay with EarlyGame for more quality CS:GO content. You can also check our YouTube channel for some visuals if reading's not your main thing.