Mit Warzone 2 wurde ein komplexes neues Loot-System eingeführt... aber die Fans haben es gehasst. Die Entwickler kehren deswegen zum älteren, einfacheren Vomit-Looting aus Warzone 1 zurück.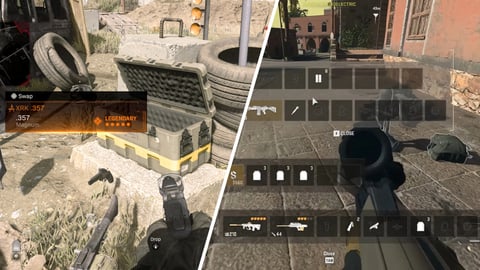 Warzone Season 2 wird bald veröffentlicht, und die interessanteste Neuerung im Spiel wird natürlich die erste Resurgence-Karte sein. Activision wird aber auch auf alte, funktionierende Systeme für die neue Season zurückgreifen.
Das aktuelle Loot-System kam bei den Fans überhaupt nicht gut an, die komplizierten Updates zum looten haben das Spiel verschlimmbessert. Wir werden in Season 2 ein paar klassische Mechanics wie das Vomit-Looting bekommen, klingt gar nicht schlecht, oder?
Vomit-Looting in Warzone bald wieder möglich
Die traditionellen Loot-Systeme aus Warzone 1 werden in Saison 2 am 15. Februar in Warzone 2 zurückkehren. Falls du nicht weißt, was wir mit "Vomit-Looting" meinen: Wenn du eine Truhe öffnest oder einen Feind tötest, springt die gesamte Beute einfach auf den Boden, anders als in Warzone 2, wo der Spieler durch die Kiste oder den Körper navigieren muss, um das Gewünschte zu nehmen.
Infinity Ward kündigte vor kurzem an:
Battle Royale looting changes, and many more, are coming with Season 02!

Player eliminations and all loot containers will now pop floating loot out onto the floor!

See more in next week's studio blog.
@RavenSoftware

— Infinity Ward (@InfinityWard) January 20, 2023
Das dürfte bei den Fans sehr beliebt sein, denn nur wenige Spieler schienen die Änderungen beim Plündern wirklich zu mögen.
Allerdings hat sich Infinity Ward noch nicht zu einer der größten Änderungen geäußert, die sich die Fans wünschen: eine höhere durchschnittliche TTK. Wir werden dich auf dem Laufenden halten, sobald wir mehr von den Entwicklern hören.
Und wenn dir Warzone zu langweilig wird, warum versuchst du nicht die DMZ?
Mit dem Einkaufswagen-Symbol markierte Links sind sogenannte Affiliate-Links, über die wir unter bestimmten Umständen eine Provision erhalten. Für dich entstehen dabei keinerlei Mehrkosten.