Das Udyr Visual and Gameplay Update ist mit League of Legends Patch 12.16 live gegangen. Leider zu knapp vor den LoL Worlds. Der neue Udyr wird also bei dem größten LoL Esports Event des Jahres spielbar sein.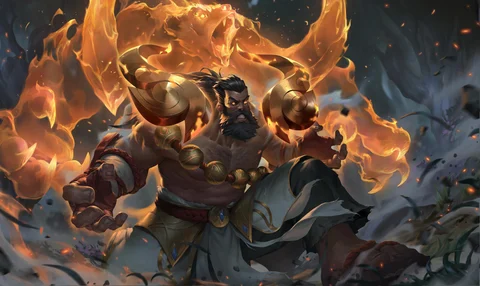 LoL Worlds 2022 ist so bald, dass wir es kaum mehr erwarten können. Wen werden wir dieses Jahr auf dem Rift sehen? Akshan und Vex konnte man letztes Jahr bei den Worlds ja nicht spielen und auch dieses Jahr wird ein Kandidat nicht dabei sein.

Das neue Udyr VGU wird nicht spielbar sein, heißt, wir werden Udyr nur in alter Form auf dem Rift sehen können. Im Prinzip. Weil, wenn wir mal ehrlich sind, wissen wir alle, dass niemand Udyr spielen wird.

Kein Udyr VGU bei Worlds 2022
Udyr ist aktuell in jedermanns Mund. Im Pro Play wirds aber leider noch dauern, bis wir ihn sehen. Ihr müsst bis zum 2023 LCS Spring Split warten und dann müsst ihr SEHR STARK hoffen, dass wir ihn dort sehen. Ich schätze eher mal Demacia Cup in der LPL.
Falls ihr also High-Skilled Udyr Gameplay sehen wollt, dann müsst ihr euch einen Udyr Streamer anschauen. Bei den LoL Worlds wird er nämlich 100% nicht zu sehen sein. Überrascht? Wir auch nicht. Akshan und Vex waren ja 2021 auch nicht bei den Worlds, nachdem die beiden einfach zu neu gewesen sind.

Warum ist das Udyr VGU bei den Worlds 2022 nicht dabei?
Letztes Jahr hatte Riot angekündigt, dass Akshan nicht bei dem 2021 League of Legends World Championship dabei sein würde. Tom Martell, Director of League Operations, sagte Folgendes:

Nach unseren aktuellen Regelungen, müssen neue Champions bei allen PlayOffs der Top Vier Regionen dabei sein um bei den Worlds dabei zu sein.
Klar könnte man jetzt sagen, dass Udyr kein neuer Champion ist. Denkt aber immer dran, dasss er durch sein VGU ein ganz neues Kit mit Reworked Abilities und neuen Skins bekommen hat. Sein Model ist auch anders. Also... irgendwie fühlt sich das schon sehr nach einem neuen Champ an.
Die LCK spielt ihre gesamten PlayOffs auf LoL Patch 12.14 (Finale ist übrigens am 28. August 2022) und die LPL PlayOffs auf LoL Patch 12.15. Nachdem das Udyr VGU erst in LoL Patch 12.16 rauskommt, macht es schon Sinn, dass er nicht bei den Worlds dabei sein wird.

Sponsored by