Wie mit jedem Patch, wird es auch in 12.15 einige Buffs und Nerfs geben. Aber in diesem Patch dürfen sich vor allem die Energie Champions freuen. Wird dein Main gebufft oder generft?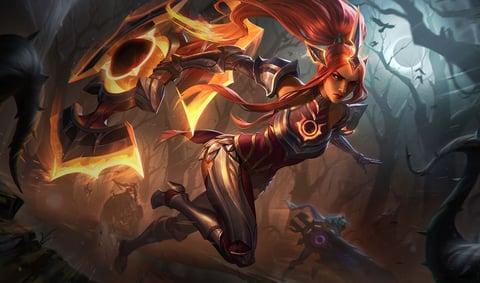 Eine weitere Woche ist vergangen und es wird Zeit auf den kommenden Patch zu blicken. Wir wissen schon, dass es in Patch 12.15 neue Monster Tamer Skins geben wird, aber das ist nicht alles, denn wie immer, wird es auch ein paar Buffs und Nerfs an Champions geben.
Letzte Woche gab es auf dem PBE Server nicht so viele Veränderungen, aber jetzt hat Riot ihre Pläne für 12.15 bekannt gegeben und vor allem die Ninja Champions können sich auf einen Buff freuen.

Champion Anpassungen in LoL Patch 12.15
Champion Buffs
Riot arbeitet immer noch daran, die Kanten des Durability Updates auszuschleifen. Im letzten Patch gab es deshalb die Healing Nerfs und in diesem Patch wird es scheinbar ein paar Buffs geben.

Champion
Änderungen
Lillia Jungle
Passiv:

Monster Damage Cap: 40-100 (basierend auf Level) --> 50-150 (basierend auf Level)

Singed
Passive:

Movespeed: 20% --> 25%
Pro Zeil CD: 10s --> 8s




R - Insanity Poison

Bonus Stats: 20/60/100 --> 30/65/100

Rammus
R - Soaring Slam

Cooldown: 110/95/80 --> 90 alle Ränge
Base Cast Range: 600 --> 800
Dash Speed up um 200 erhöht
Reichweiten Wachstum pro MS Ratio: 1.3 --> 1.5

Leona
Q - Shield of Daybreak

Mana Kosten: 45-65 --> 35-65


R - Solar Flare
Thresh
Q - Death Sentence

Cooldown: 20-12s --> 19-11s
Damage: 80-240 --> 100-260

Energie Champions

Zed

Shadow Spell Mimic Reichweite: 2000 --> Unendlich
Shadow Slash (E) Enerrgie-Kosten: 50 --> 40

Lee Sin

Recast Spell Enerrgie-Kosten: 30 --> 25

Akali

Twilight Shroud (W) Energie Rückerstattung/ Erhöhung: 80 --> 100

Kennen

Electrical Surge (W) Cooldown: 14-6s --> 13-6s
Electrical Surge (W) Damage: 60-160 --> 70-170
Slicing Maelstrom (R) AP Ratio: 20% --> 22.5%

Shen

Shadow Dash (E) Energie Rückerstattung: 30-40 --> 30-50
Wir nähern uns langsam der Weltmeisterschaft 2022 und natürlich müssen Leona und Thresh dann gebufft werden, denn eine Weltmeisterschaft ohne die beiden zu haben, wäre ja eine absolute Schande.
Riot Prozxon erklärte, dass die Energie Champions einen kleinen Buff brauchen, damit sie etwas effektiver sein können. Kennen wird allerdings ein paar andere Buffs erhalten. Wie genau diese aussehen, wissen wir noch nicht.

Ein Champion, der keinen Buff braucht, ist Fiddlesticks:
Champion Nerfs
Sivir's Mid Scope Update ist ein bisschen zu gut gewesen und auch nach zwei Nerfs, ist sie immer noch der beste ADC. Jetzt kriegt sie ihren dritten Nerf und hoffentlich sinkt ihr Power-Level damit ein wenig.

Champion
Änderungen
Master Yi
E - Wuju Style

Cooldown: 18/17/16/15/14 --> 18 alle Ränge

Qiyana
P - Royal Privilege

Damage AD Ratio: 45% --> 30%

Sivir
Base Stats
E - Spell Shield

Cooldown: 22-14s --> 24-18s


R - On the Hunt

Cooldown: 100-70s --> 120-80s

Gwen
Q - Snip Snip!

True Damage Konversion: 75% --> 50%

Taliyah
E - Unraveled Earth

Cooldown: 16/15/14/13/12 --> 18/17/16/15/14




R - Weaver's Wall



Kalista
Base Stats
Es wird auch endlich Zeit für einen Master Yi Nerf, der nach seiner kleinen Überarbeitung auch etwas außer Kontrolle geraten ist. Vor allem in den tieferen Elos ist er extrem effektiv und man kann fast gar nichts gegen ihn tun.

System Anpassungen in LoL Patch 12.15
System Buffs
Die beiden QSS Items werden in dem kommenden Patch gebufft. Abgesehen davon, scheint es keine weiteren Item Buffs zugeben.

System
Buffs
Mercurial Scimitar

Magic Resist: 30-40
Movement Speed Duration: 1s --> 15s

Silvermere Dawn

Magic Resist: 35-45
Slow Resist/Tenacity: 40% --> 50%
Health: 300-350
System Nerfs
In Patch 12.15 wird es aber auch zwei System Nerfs geben. Ein Item und eine Rune werden generft, was wesentlich weniger war, als im letzten Patch.

| | | |
| --- | --- | --- |
| | System | Nerfs |
| | First Strike | Bonus True Damage: 10% --> 9% |
| | Divine Sunderer | Healing Konversion: 65% --> 55% |
Und das war's auch schon zu Patch 12.15. Sobald die Zahlen bekannt gegeben werden, könnt ihr sie hier finden. Da wir uns den Worlds 2022 nähern, wird es nicht mehr so große Patches geben und wir sind gespannt, wie die Meta dann aussehen wird.
Welche Champions würdest du gerne bei den Worlds 2022 sehen? Ich hoffe, wir sehen Zed in der Mid Lane, ich meine, komm schon. Wer will Zed denn bitte nicht sehen?

Sponsored by