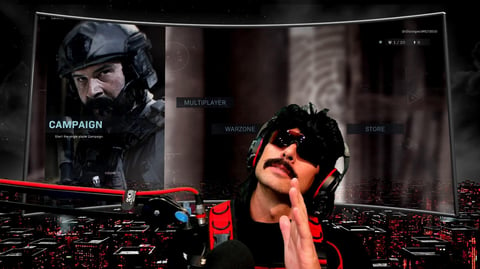 The mystery around Dr Disrespects ban continues with reaction images and GIFs now completely removed from popular site GIPHY.
The gaming world is still waiting in anticipation from one of the most popular video game streamers on the streaming website Twitch. Dr Disrespect was recently banned from the site on June 26, without explanation, leaving many wondering just what exactly is going on.
Countless theories are circulating the internet at the moment, from publicity stunt, to things of a much more serious nature. Dr Disrespect has remained quiet on all forms of social media due to legal reasons, no doubt. His remaining Tweet is still up after the ban happened.
Champions Club,

Twitch has not notified me on the specific reason behind their decision... Firm handshakes to all for the support during this difficult time.

-Dr Disrespect

— Dr Disrespect (@drdisrespect) June 28, 2020
What's stranger is that now all reaction GIFs from the popular site GIPHY have been completely removed. Searching Dr Disrespect will yield no results on the website. Where there used to be plenty of images of the doc, just GIFs of a different Dr remain.
The reason must be serious, as far more controversial figures still remain on GIPHY when searching the site. If you need further information on the ban of Dr Disrespect, we've got just the video for you.
With no official announcement or comment made from Twitch, the gaming world waits to see what future lies for Dr Disrespect and his Champions Club.
What do you think happened to Dr Disrespect? Was it something against Twitch's terms of service, or something of a much more serious note? We're curious to know your thoughts about this on-going mystery.
For everything else Dr Disrespect, keep it here with EarlyGame.