The EarlyGame Awards in favor of Laureus Sport for Good are back once again in 2023 with an awesome giveaway. Every person that donates is in the race for winning, and the more you gift, the better your chances.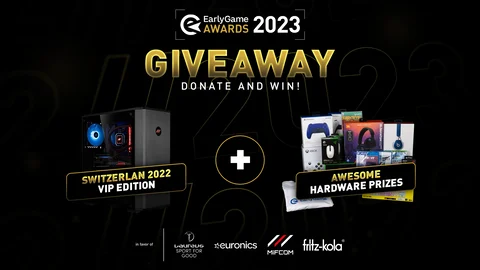 This time we have more than $5000 worth of stuff, split across more than 20 awesome prizes.

All you have to do is donate! For every €5 you give, you get an entry into the give-away. So for €10 you get two, €15 that's three and so on.
What is the best thing you can win? This sick SwitzerLAN VIP-Edition Gaming PC by our Partner MIFCOM. If you want to take gaming to the next level, this is your chance to get a handmade $2000 gaming PC, built by professionals, using only the best components (yes I want one as well).


We're even throwing in more than 20 cool non-partnered products ourselves, like an Xbox Series S, Beats headphones, a couple PS5 controllers, keyboards, games and more!

We got a little extra for every person that votes for their favorite streamers. Fanbloc is gifting every single person that votes (or uses the link) 2,000 points. In addition, the winner of the giveaway is getting 10,000 Fanbloc points (around $250). Fanbloc wants to reward fan culture and engagement during streams. So there you go! Vote and get rewarded for helpingout your favorite streamer!


So if you want to win then donate here: