Grace Van Dien, known for playing Chrissy in Stranger Things, explained why she turned away from the movie industry and focused on streaming. The reasons are predictably saddening.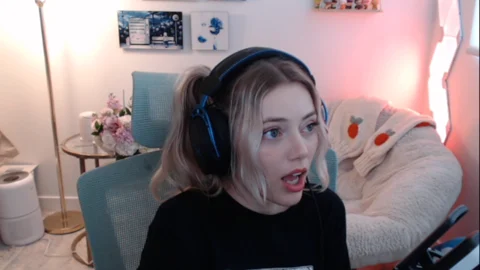 Many people might not know this, but actress Grace Van Dien, who is best known for playing Chrissy in Stranger Things Season 4, is also streaming on Twitch under the name BlueFille.
While many would expect her career to peak after such a big gig as Stranger Things, she instead focused on her streaming career, now having garnered over 280,000 followers.
Van Dien actually talked a bit about that during a recent stream. She revealed why she turned away from the movie industry, actually declining several acting opportunities to focus on Twitch instead. This has, unfortunately, a sad reason behind it.
Grace Van Dien Turned Down Projects To Stream on Twitch
According to Van Dien, she had a tough time in the industry and that she has experienced some pretty disturbing behavior from some people she worked with, including some producers.
According to the actress, one particularly bad incident involved a movie producer convincing someone he was sleeping with to ask Van Dien about joining them for a threesome. What the hell, man…
You can watch Grace talk about that in this clip:

She was obviously extremely upset about that, and decided she didn't want to tolerate that kind of behavior anymore. That's why she decided to focus on Twitch, where she can "choose who I hang out with and who I talk to". Now, Twitch can be a horrible place as well, especially thanks to chat.
But BlueFille seems to have a pretty decent community. Let's hope she continues to have a good time on the platform.
If you're suffering from sexual violence or know somebody that does, you can always get help! If you want to inform yourself on national hotlines, or read more about the topic, you can do so here.