Error Code 83 on Disney+? Excuse me?? It can be infuriating to be denied the human right to watch your favorite show just because some error pops up. We got you: Here's how to fix it.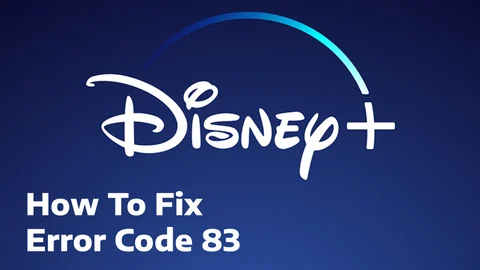 "Something went wrong. Please try again. If the problem persists, visit the Disney+ Help Center (Error Code 83)." That's not exactly helpful, to be honest.
Don't despair, you're gonna be good to go in a second. Let's take a look at what's the problem and how to fix it if you're not done with your daily binge on Disney+.
What Causes Error Code 83 On Disney+?
The support page states that it's either a device compatibility issue, a connection error or an account issue. Still pretty vague, but it seems in most cases it's actually the device that's the problem.
Here's the official list of compatible devices for Disney+. You'll also find all the web browsers Disney+ supports there. If it's not a new device you're using, you can skip this part.
How To Fix Error Code 83 On Disney+
It's possible that the problem doesn't lie with you, but with the Disney+ servers. Sadly, there's nothing to do but wait if that's the case. Here's how you check that:
Here's a step-by-step guide on how to get back to your favorite shows and movies and all the measures you can take to get it to work again.
Double-check your device compatibility.
Check your internet connection on the device you're trying to use.
Force close Disney+ and try restarting it.
Clear your cache and cookies if you're using Disney+ on a smartphone or table

Go to your Settings
Select Apps
Select Disney Plus from the list
Go to Storage & Cache
Select Clear Cache

Delete and reinstall Disney+. Make sure your app is up-to-date.
Restart your device. Take a minute or two before turning it on again.
Check your device's firmware. Update it if necessary.
If possible, try another device.
If none of these steps work, try logging in with another account – maybe ask friends if they can quickly help you out with that. If you can log in with a different account, you might be facing account issues. That's the point where you need to contact the Disney+ support service.
Hopefully one of these steps worked and you're already binging again! If not, here's the Disney+ live support, available 24 hours a day.
You can also give them a call:
888-905-7888 (US)
888-282-0520 (CANADA)
020 3936 2903 (UK)
1800-965-160 (AUSTRALIA)
You have enough? Maybe some EarlyGame content can help to cheer you up!
This article contains affiliate links which are marked with [shopping symbol]. These links can provide a small commission for us under certain conditions. This never affects the products price for you.