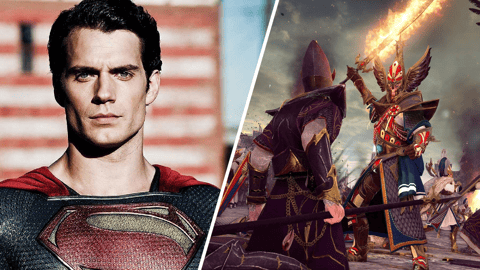 We all know Henry Cavill, right? The guy who played Superman or the Witcher in the famous Netflix show. Well, it seems like he isn't that much into The Witcher after all, but more into strategy games like Total War: Warhammer. He actually has his own character in Total War: Warhammer 2.
Yes, Henry Cavill did a great job as Geralt of Rivia in Netflix's The Witcher. Even though many fans and especially gamers were skeptical at first, Henry Cavill since made it more than clear that besides having the body of an Olympic athlete, he is also a big nerd.

Hery Cavill told several magazines that he spends a lot of time painting Warhammer miniatures and playing not only The Witcher but also quite a bit of Total War: Warhammer. On PC, of course, cause that is and will always be the best gaming platform – PC MASTERRACE!
Henry Cavill is in Total War: Warhammer 2
I don't know if you guys already knew that Henry Cavill actually has his own character in Total War: Warhammer 2. He is the High Elf Loremaster "Cavill" from the The Warden and The Punch DLC. How cool is that? Developer Creative Assembly must have been impressed by Cavill's nerdiness and therefore honored him with his own character.
The High Elf even has some interesting traits: White Wolf grants a +15 bonus vs large, probably hinting at a career as a professional monster-slayer in The Witcher. Advocate grants +3 untainted to the local province, and the flavor text reads "Good ideas oft-times need vocal, public support to turn them into reality," which should remind us of Cavill's support for wholesome ways to spend our time at home during the current pandemic.
Read More:
Yes, Total War: Warhammer 2 isn't that hyped anymore, but Total War: Warhammer 3 is already waiting to be released. Henry Cavill is probably already as hyped for it as we are, and maybe Creative Assembly will include that handsome guy again. I would definitely play him!
Check out MyEarlyGame for a free and customizable experience. Get engaged on Twitter and Facebook.