Suzume No Tojimari is an animated fantasy adventure film which already celebrated its debut in Japan in late 2022 and is going to be released globally in April 2023. Since pretty much all of Makoto Shinkai's movies were top-sellers all around the world, his newest story was greatly anticipated over the last year. Can it live up to the hype?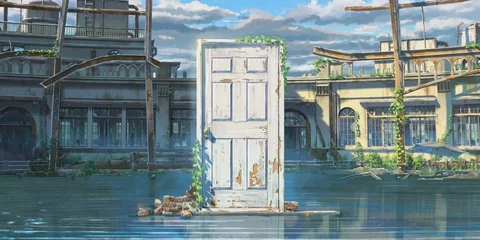 A lot of people waited patiently for the day, when Suzume No Tojimari hits cinemas all around the world – and yes, I was one of them. But the day finally came and after watching the movie on release night, I have a lot of thoughts on it which would like to share with you guys!
Warning: There may be small spoilers! If you don't want to risk it, I would greatly appreciate you coming back after watching the movie yourself and if you did, enjoy your read!
The movie is available for most countries to watch on Crunchyroll, April 12, 2023.
After Your Name in 2016 and Weathering With You in 2019, Makoto Shinkai is finally back with hopefully another great story for us to enjoy. With such successful predecessors like those two, it's sometimes really hard not to disappoint viewers' expectations. Let's break it down piece by piece.
If you liked Suzume's Story, you should definitely check out Your Name as well!
To get you in the right mood and give you a nice song stuck in your head while you continue reading, enjoy the official trailer once again and for the few people who haven't watched the trailer already, yes it is mandatory, no excuses!
Suzume No Tojimari Setting and World Building
The movie is set in modern world Japan, almost as it exists today. Even if it's categorized as a fantasy movie, there are no crazy creatures or otherworldly landscapes, at least not at first glance. Especially in the beginning, the region Kyushu is where we get to know our main characters for the next 122 minutes.
In the course of the story, we travel to the city of Kobe, which is the capital city of Hyōgo Prefecture Japan. But since the clock is ticking, our characters quickly head towards Tokyo before we finally reach our destination in the Tōhoku region. The entire story takes place within just a few days … or a whole life, that's up to your perspective.
Just like the Japan we know in our real world, the one in the movie has a hard time dealing with massive earthquakes and it's consequences, leaving entire cities behind in ruins. The cause for these natural catastrophes however is quite different from the ones we know and without our brave protagonists, their world wouldn't stand a chance against what's lying beneath their feet.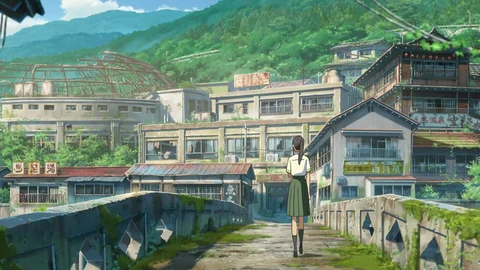 Getting To Know Our Main Characters
Without spoiling too much, but after taking a look at the characters the movie has to offer, you can see where one of Makoto Shinkais' biggest talents hides. A lot of you might say, "it's just another Mitsuha Miyamizu" (who was the female protagonist in Your Name) and I would have to agree with you.
Nonetheless, main characters have the task to carry the story and not completely be the story. Creating a simple but lovable character to guide you through a movie isn't a bad thing after all. Especially when there is so much emphasis placed on the message of the story.
Suzume Iwato
Suzume is, like the title suggests, the main character of our story and the first one we encounter as well. She is a 17-year-old girl who is living with her aunt in Kyushu, one of the five main islands of Japan. She is attending school like every normal girl her age would do, but that is not where we get to know her for the first time.
In a small but impressive scene at the beginning of the film, we already encountered Suzume once, but in a much earlier state of her life. In tears, she seems to be looking for her mother, but is found by someone else instead. This figure remains for us, however, only a shadow, which presents a really important gift to the little Suzume. One day, she makes an unusually familiar encounter. Without thinking too much about it, Suzume answers her counterpart's question about the way to the ruins of the city and continues her way to school. Not knowing they will meet again very soon.
Sōta Munakata
The one asking that strange question is Sōta Munakata, a young man in his early twenties. For the viewer and Suzume herself, Sōta seems like an ordinary traveler, on his way to learn about the lost places of Japan. He is not very talkative and quiet mysterious but not in a dangerous way. Later on we get to know about the importance of his mission and how it already affected Suzume throughout her entire life.
Tamaki Iwato
Tamaki is Suzume's aunt, who took her in after Suzume's mother went missing when she was just 4 years old. Since then, they are living together as a family, with Tamaki caring for Suzume like a real mother would. She works at an office and is estimated by Suzume to be about 40 years old. She is not married whatsoever although being a very attractive woman, but after dedicating her life to parenting her niece, she did not have enough time to addressing her own needs.
Daijin
Daijin is a cat that can speak and understand the human language, which is quite surprising for everyone that sees him for the first time. His big eyes and cute design lets the heart of most viewers melt instantly. But there is more to that little creature, since he plays an important role throughout the story, and is always running away from Suzume and Sōta as they are trying to catch the little white furred runaway.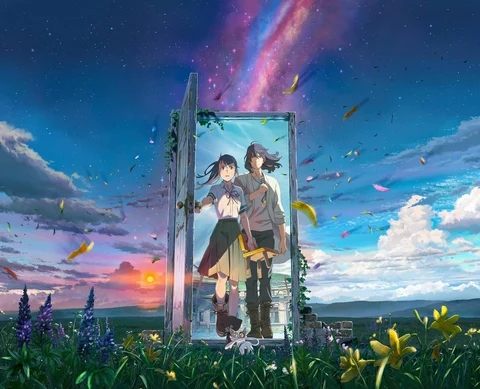 The Places We Left Behind
A large part of the story is set in so-called lost places, and this is of course no coincidence. They are full of memories, which you can hear about from the fading and mumbling voices Suzume is noticing while entering these locations. No matter if it's a tragic scene or a happy ending, every story needs to be told until the very end.
People tend to forget about places like this, the memories they hold, and abandon them while continuing their own story with another door that's left open. These imaginary doors are the ones that Suzume and Sōta must close in order to maintain the safety of the world, by locking up all the fading memories and untold stories inside of them.
"We must think about how to close the many doors we left open." —Makoto Shinkai
Verdict
Right after watching the movie, I was literally overwhelmed by all the impressions the film gave me. Starting with a beautiful theme song, and likeable characters right until the very emotional end, the mood and setting hooked me right in. The overall message however is quite heavy, but gains in ease though the way it is being told and how the characters deal with the situation. In general, the film comes with a good mixture of comedy and melancholy, making you either cry from laughter or tear up regarding a touching relationship.
Like I said before, the characters are nothing too special, but they are doing a great job in carrying the story, while staying sort of relatable. In order to save the ones they love or come to peace with their own personal experiences, they have to outgrow themselves and build trust to the people around them, never losing focus of their main goal.
All in all, the movie is definitely worth watching and one of my favorite anime movies so far. My biggest win was the theme song, which is undisputedly beautiful and brings back all the emotions I went through while watching the movie. Maybe give it a shot and lose yourself in the beautiful world of the Makato Shinkai movies.
This article contains affiliate links which are marked with [shopping symbol]. These links can provide a small commission for us under certain conditions. This never affects the products price for you.