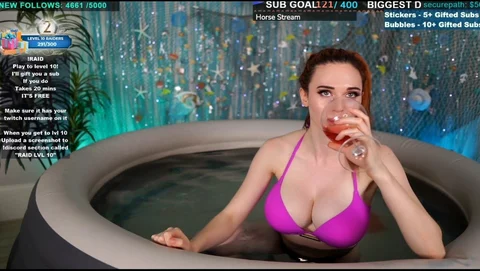 The hot tub meta just hit its largest obstacle yet. Twitch has taken away ad revenue from Kaitlyn "Amouranth" Siragusa's channel. Amouranth is arguably the largest name to indulge in hot tub streams, but she may be forced to reconsider.
It's been a long time coming. Weeks and months passed with everyone but Twitch having an opinion on the hot tub meta that's riddled EarlyGame's front page. When Twitch finally did take action though, they decided to go big.
Why Was Amouranth's Twitch Channel Demonetized?
Amouranth was most likely demonetized by Twitch due to her highly popular and high-profile hot tub streams. In typical Twitch fashion, nothing has been made particularly clear, and this may as well be completely due to an issue unrelated to her Amouranth's hot tub streams.
Yesterday I was informed that Twitch has Indefinitely Suspended Advertising on my channel

Twitch didn't reach out in any way whatsoever. I had to initiate the conversation after noticing, without any prior warning, all the ads revenue had disappeared from my Channel Analytics

— Amouranth (@Amouranth) May 18, 2021
Then again, what else could it be? Amouranth hot tub streams, and then gets demonetized. Putting two and two together isn't that difficult. Many companies would not be thrilled to have their products used by girls in bikinis to bounce their melons in a jacuzzi.
For the argument's sake, let's accept that Amouranth got demonetized for her hot tub streams. What does that mean for other similar streamers, and the hot tub meta? Simple: advertisers are more important to Twitch than individual streamers, so if the site is losing grace from the former, they are going to punish the latter. If that is what's happening, then the fate of jacuzzi-streams is sealed.
You stream soft porn content on a site for young people. You actively exploited their TOS to the maximum extent. And you seriously have the audacity to complain about this? Just wow.

— Christian Hensen (@henseat) May 18, 2021
Create a MyEarlyGame account now! It lets you customize our site, and enter all of our giveaways. You can also follow us on Instagram, or join our Discord for a fun chat.