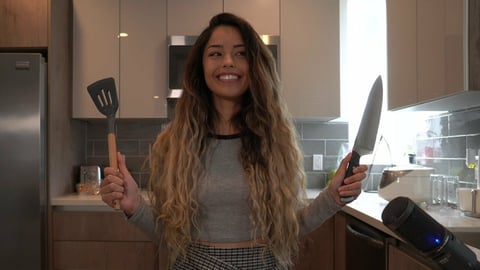 She is pretty, talented, and successful. She makes a living from her passion and earns millions with it. Rachell Hofstetter, alias Valkyrae, is living the dream of every gamer. But who is she and where did the hype around her come from?
Nowadays, you can find streamers on Twitch and YouTube like sand in the sea. But only a few of them manage to make it big and Valkyrae is definitely one of them. Not only did she become Best Content Creator at the 2020 Game Awards, she also managed to snag an exclusive deal with YouTube. It supposedly earned her at least a million dollars. Crazy, right? For many of us, she came virtually out of nowhere, but in fact, she's been making videos since 2014.
From Rags to Riches in 6 Years
It's incredible what can happen in just 6 years. Before she became a streamer/youtuber, she was still working at GameStop. Then she made a name for herself with games like League of Legends or Fortnite. In 2020, she boarded the Among Us hype-train and made daily videos on it. Joining her are other well-known Internet personalities such as Corpse Husband, Sykkuno or the boys and girls from OfflineTV.

Many people are already calling her the biggest streamer in the world. But that doesn't have only positive impacts. Such a title brings a lot of pressure and the question is if she can withstand all of it. In the past, she already claimed to feel unwell and paranoid while streaming or being in public.
Money Troubles and Death Threats
Who can blame her when we all know what a terrible place the Internet can be. Especially for women. Apart from the usual perverts and weirdos, she already received several death threats. How twisted is that?! Valkyrae is one of the most likeable and unproblematic streamers out there and doesn't deserve the heat.
On top of that, there's the fact that streaming is not the most stable job you can have. Despite of her YouTube deal practically solving all her money troubles at once, her income is highly dependent on her fans and donations. If she ever were unable to continue streaming or get canceled by her community, her income would be in immediate danger.
Valkyrae's Private Life
Although Valkyrae likes to keep her private life separate from her job as a streamer, we already know quite a lot about her. Her birthday is on January 8 (Happy Birthday!!!), she lives in Los Angeles and she had a relationship with streamer SonyD for quite a while. They separated not only once, but twice. Awkward! Apart from the, she is supporting her mother financially and keeps speaking up about more women in gaming. She also no fear of defending simps, as long as they don't become stalkers.
Either way, Valkyrae is a remarkable person. She is standing up for her beliefs, does her own thing and has no problem showing her vulnerable side. With this attitude, she's a role model for many out there, and we're very excited about what's coming up next for her!
What do you think of Valkyrae? Are you a fan or not so much? Tell us in the comments!
MORE INFLUENCER NEWS:
And for more EarlyGame, swing by our YouTube channelorjoin our brand-new EarlyGame Discord server!