EA will remove some of our beloved Icons in EA FC 24. We tell you which Icons we won't see anymore, and what changes you can expect for FUT Icons going forward into FC 24.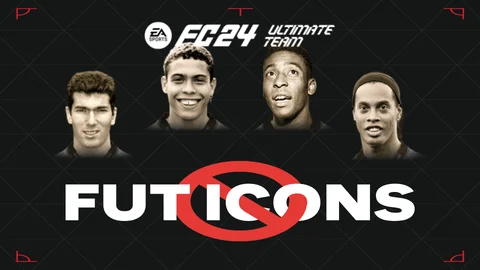 In their latest FUT deep dive, EA dropped some significant news. Besides unveiling ratings for several football superstars, they announced a huge change in how FUT Icons will work in EA FC 24.
You're the GOAT of FIFA? Put your skills to the test against your friends on Gaming Stars

We'll show you why the removal of some of our beloved Icons might be not as bad as it sounds (at least that's what we're hoping for) and how Icons in will boost your squad chemistry in Ultimate Team.
EA FC 24: EA Will Remove Icon Versions In FIFA 24
EA obviously had to come up with some changes for their next game. One pressing issue was the chemistry system surrounding Icons. In FIFA 23, Icons paled in comparison to FUT Heroes when it came to chemistry, largely because they only amplified their home nation and lacked league affiliation.
In EA FC 24, Icons will contribute to every league that's represented in your squad. And if you add two Icons, you'll get two chemistry contributions, guaranteeing at least one chem point for each league. That is a huge W.
However, we are also parting ways with some of our cherished football legends...
Probably the last time we see these player images #EAFC24 #Icons #FIFA23 pic.twitter.com/o9p4WVWH49

— Sahil (@Criminal__x) August 9, 2023
EA FC 24: No More Base, Mid & Prime Icons – Standard & Promo Versions Are Coming
Yep, you've seen that right. In the future we'll have to do without Base, Mid & Prime Icons in Ultimate Team.
Instead, there will be a single standard version for each Icon, with opportunities for upgrades and new iterations through special promotions, events, and campaigns during the FUT season. This new approach has raised some eyebrows. The concern is that Icons might become even more elusive than they already are.
No more MID & PRIME icons... Only one version of each and some added to promos...

Not sure if i like it!

— Fut Sheriff (@FutSheriff) August 9, 2023
Consider, for example, the grind required for the Cover Star Ronaldinho SBC. It's daunting, to say the least. On the bright side, packing one of these enhanced Icons could be a game changer. Icons are set to start the season with more impressive stats and will only get better as time goes on.
To put it in perspective: there won't be a 91-rated Zinedine Zidane in the game at all. Instead, Zizou will kick off the season as a formidable 94-rated standard version, receiving even higher-rated versions throughout the season.
We're wishing all the players out there the best of luck – securing an Icon, especially early in the season, could secure you a lot of wins.
New EAFC 24 ICON Ratings

Zidane 94
Eusebio 91
Henry 91
Cafu 91
Gullit 90

Only 1 version now @WeaverFUT #EAFC24 pic.twitter.com/0rhZZIItYj

— Donk (@DonkTrading) August 9, 2023
This article contains affiliate links which are marked with [shopping symbol]. These links can provide a small commission for us under certain conditions. This never affects the products price for you.