Pedri is the Golden Boy 2021. The Spaniard won the election by a large margin. The 18-year-old played superbly for FC Barcelona and the national team. Why is there no special card for this award?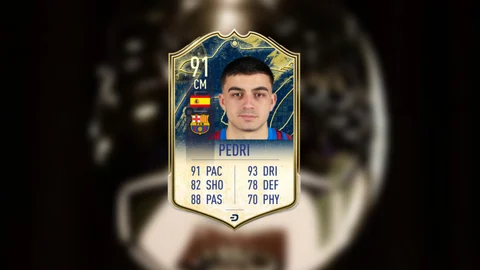 What a talented player. After Lionel Messi, Pedri is the second FC Barcelona professional that won the famous Golden Boy Award. The young midfielder succeeds Erling Haaland. Borussia Dortmund's storm miracle won the 2020 election. Dortmund was also well represented this year: Jude Bellingham came second.

The best talents in the world of football are honored with the Golden Boy Award. Since 2003, the prize has been awarded by the Italian newspaper "Tuttosport". Different editorial offices cast their votes – so the voting works very similarly to the Ballon d'Or.

Pedri wins the Golden Boy award!

Congratulations, @Pedri!#DreamTeen

— FC Barcelona (@FCBarcelona) November 22, 2021
FIFA 22: Golden Boy Special Card for Pedri
Anyone who is familiar with FIFA Ultimate Team knows that there are many events for players distributed throughout the year. Black Friday is coming soon, with a top selection of Team of the Week players.

But instead of providing trash like the NumersUp event, EA could think about honoring such awards with nice cards. How awesome would a Golden Boy special card be, which boosts Pedri to the moon. If we could get an SBC for it, we'd all be happy.





Pedris' stats are quite superb for an 18-year-old. No doubt. But with even better stats... sorry I'm about to drool. As you can see in the picture of the article, we've already dreamed a bit about how superior he could be. The following upgrades would make an absolute meta player out of him:

| | |
| --- | --- |
| Standard Pace | Golden Boy Pace |
| 78 | → 91 |
| Standard Shooting | Golden Boy Shooting |
| 65 | → 82 |
| Standard Passing | Golden Boy Passing |
| 79 | → 88 |
| Standard Dribbling | Golden Boy Dribbling |
| 84 | → 93 |
| Standard Defending | Golden Boy Defending |
| 66 | → 78 |
| Standard Physis | Golden Boy Physis |
| 63 | → 70 |
Just a dream, but that's what we would wish for. It's a pity, EA, that you'd rather do a promo campaign with Adidas, which then just doesn't work. Instead, it would be better to do special cards like this.



"Flop Squad": Stars That Will Miss the 2022 World Cup

View gallery