There are a total of 105 icons in FIFA 22 Ultimate Team. These legends are extremely popular cards in any FIFA game, so we put in the effort to list all the icons in FUT 22.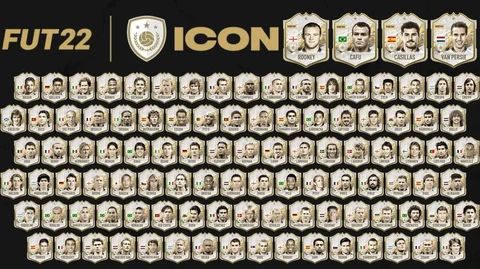 The icons don't just have killer ratings, but also link to every player around them. That's why they're an enrichment for every Ultimate Team. Plus, the cards look really rad. The legends come in four different versions:

Moments Icons in FIFA 22 even got the chance to get an upgrade for their weak foots in FIFA 22. Noice.
In this article, we're going to list the position and rating for the basic, middle, prime and moments version of all FIFA 22 Icons. Just check out those tasty players!

All Goalkeeper Icons in FIFA 22 Ultimate Team & Ratings
Petr Cech (86/ 88/ 91/ 92)
Peter Schmeichel (86/ 90/ 92/ 93)
Edwin Van der Sar (87/ 89/ 91/ 92)
Lewy Yashin (89/ 91/ 94/ 95)

Iker Casillas (87/ 89/ 92/ 93)
Of course, there are some new faces as well: With Wayne Rooney – These are the new FUT 22 Icons!
All Defensive Icons in FIFA 22 Ultimate Team & Ratings
Cafu (RB, 88/ RB, 90/ RWB, 93/ RWB 94)
Franco Baresi (CB, 88/ CB, 91/ CB, 93/ CB 94)
Laurent Blanc (CAM, 85/ CB, 89/ CB, 91/ CB 92)
Sol Campbell (CB, 85/ CB, 87/ CB, 89/ CB 90)
Fabio Cannavaro (CB, 87/ CB, 89/ CB, 91/ CB 93)
Carlos Alberto (CB, 87/ RB, 90/ RB, 93/ RB 94)
Nemanja Vidic (CB, 85/ RB, 88/ RB, 90/ CB 91)
Ashley Cole (LB, 85/ LB, 87/ LB, 89/ LB 90)
Marcel Desailly (CB, 87/ CB, 88/ CB, 91/ CB 92)
Rio Ferdinand (CB, 85/ CB, 88/ CB, 90/ CB 91)
Fernando Hierro (CB, 86/ CB, 89/ CB, 91/ CB 92)
Ronald Koeman (CB, 85/ CB, 88/ CB, 91/ CB 93)
Philipp Lahm (LB, 87/ RB, 89/ CDM, 91/ CDM 92)
Paolo Maldini (LB, 88/ CB, 92/ CB, 94/ CB 95)
Bobby Moore (CB, 87/ CB, 89/ CB, 92/ CB 93)
Alessandro Nesta (CB, 88/ CB, 90/ CB, 92/ CB 93)
Carles Puyol (RB, 86/ CB, 90/ CB, 92/ CB 94)
Roberto Carlos (LB, 86/ LB, 88/ LB, 91/ LB 92)
Gianluca Zambrotta (RWB, 86/ LB, 87/ RB, 89/ RB 91)
Javier Zanetti (LB, 87/ RB, 88/ RB, 92/ RB 93)
Every New Goal Celebration In FIFA 22 & How To Do Them

View gallery
All Midfield Icons in FIFA 22 Ultimate Team & Ratings
Michael Ballack (CM, 86/ CM, 89/ CM, 91/ CM 92)
John Barnes (CAM, 86/ LW, 87/ LW, 89/ LM 90)
David Beckham (CM, 87/ RM, 89/ RM, 92/ RM 94)
Deco (CAM, 85/ CAM, 87/ CM, 90/ LM 91)
Michael Essien (CDM, 85/ CDM, 87/ CDM, 90/ CDM 91)
Gennaro Gattuso (CM, 85/ CDM, 87/ CDM, 89/ CDM 90)
Steven Gerrad (CDM, 86/ CM, 89/ CM, 91/ CM 92)
Ryan Giggs (LM, 87/ LM, 89/ LM, 92/ LM 93)
Pep Guardiola (CDM, 85/ CDM, 87/ CDM, 90/ CDM 91)
Ruud Gullit (CM, 86/ CM, 90/ CF, 93/ CF 94)
Gheorghe Hagi (CAM, 85/ CAM, 89/ CAM, 91/ LM 92)
Kaká (CAM, 87/ CAM, 89/ CAM, 91/ CAM 92)
Roy Keane (CM, 86/ CM, 88/ CM, 90/ CM 91)
Frank Lampard (CM, 86/ CM, 88/ CM, 90/ CM 91)
Michael Laudrup (CF, 85/ LW, 89/ CAM, 91/ CAM 92)
Jari Litmanen (CF, 85/ CAM, 88/ CAM, 90/ CAM 91)
Claude Makélélé (RM, 85/ CDM, 87/ CDM, 90/ CDM 91)
Diego Maradona (CAM, 91/ CAM, 95/ CAM, 97/ CAM 98)
Lothar Matthäus (CB, 88/ CDM, 91/ CM, 93/ CM 94)
Hidetoshi Nakata (CAM, 85/ CAM, 86/ CAM, 88/ CAM 89)
Pavel Nedved (LM, 86/ LM, 89/ LM, 91/ CAM 92)
Jay-Jay Okocha (RM, 85/ CAM, 87/ RM, 90/ CAM 91)
Marc Overmars (LW, 86/ LM, 88/ LW, 90)
Emmanuel Petit (LB, 85/ CDM, 88/ CDM, 90/ CDM 91)
Roberto Pires (CAM, 85/ LM, 88/ LM, 91/ LM 92)
Andrea Pirlo (CM, 88/ CM, 90/ CM, 92/ CM 93)
Frank Rijkaard (CDM, 86/ CB, 88/ CDM, 90/ CDM 91)
Juan Roman Riquelme (CAM, 87/ CAM, 89/ CAM, 91/ CAM 93)
Rui Costa (CAM, 85/ CAM, 88/ CAM, 90/ CAM 91)
Paul Scholes (CM, 87/ CM, 89/ CM, 91/ CM 92)
Bastian Schweinsteiger (LM, 87/ CM, 89/ CM, 91/ RM 93)
Clarence Seedorf (CM, 85/ CM, 88/ CAM, 91/ CM 93)
Socrates (CAM, 87/ CAM, 89/ CAM, 91/ CAM 92)
Juan Sebastian Veron (CM, 86/ CM, 88/ CM, 90/ CM 91)
Patrick Vieira (CM, 86/ CM, 88/ CM, 91/ CM 92)
Xavi (CM, 88/ CM, 90/ CM, 93/ CM 94)
Zinedine Zidane (CM, 91/ CAM, 94/ CAM, 96, CAM 97)
All Forward Icons in FIFA 22 Ultimate Team & Ratings
Wayne Rooney (CAM, 86/ CF, 88/ ST, 91/ ST 93)
Robin Van Persie (ST, 87/ ST, 89/ ST, 91/ ST 92)
Roberto Baggio (CF, 89/ CAM, 91/ CAM, 93/ CAM 94)
Dennis Bergkamp (CF, 87/ CAM, 90/ ST, 92/ CF 93)
George Best (RW, 88/ RW, 90/ RW, 93/ RW 94)
Emilio Butragueno (ST, 87/ ST, 90/ ST, 92/ ST 93)
Eric Cantona (CF, 88/ CF, 90/ ST, 93/ CF 94)
Hernan Crespo (ST, 85/ ST, 87/ ST, 90/ ST 91)
Johan Cruyff (CF, 89/ CF, 91/ ST, 94/ CF 95)
Kenny Dalglish (ST, 87/ CF, 90/ ST, 92/ ST 93)
Alessandro Del Piero (CF, 87/ CF 90/ ST, 92/ CF 93)
Didier Drogba (ST, 87/ ST, 89/ ST, 91/ ST 92)
Samuel Eto'o (ST, 87/ ST, 90/ ST, 92/ ST 93)
Eusebio (CF, 89/ CF, 91/ ST, 93/ CF 94)
Luis Figo (CAM, 88/ RW, 90/ RW, 92/ RM 93)
Garrincha (RW, 90/ RW, 92/ RW, 94/ RW 95)
Thierry Henry (LW, 87/ LW, 90/ ST, 93/ ST 94)
Luis Hernandez (ST, 85/ ST, 87/ ST, 90/ ST 91)
Filipo Inzaghi (ST, 85/ ST, 87/, ST, 90/ ST 91)
Miroslav Klose (ST, 87/ ST, 89/ ST, 91/ ST 92)
Patrick Kluivert (ST, 86/ ST, 88/ ST, 91/ ST 92)
Henrik Larsson (ST, 86/ ST, 87/ ST, 90/ ST 91)
Gary Lineker (ST, 87/ ST, 89/ ST, 92/ ST 93)
Michael Owen (ST, 86/ ST, 88/ ST, 91/ ST 92)
Pele (CF, 91/ CF, 95/ CAM, 98/ CAM 99)
Ferenc Puskas (CF, 91/ ST, 92/ ST, 94, ST 95)
Raúl (CF, 86/ CF, 88/ ST, 92/ CF 93)
Rivaldo (CAM, 87/ CF, 90/ LW, 92/ CAM 93)
Ronaldinho (CAM, 89/ CAM, 91/ LW, 94/ LW 95)
Ronaldo (ST, 90/ ST, 94/ ST, 96, ST 97)
Ian Rush (ST, 87/ ST, 89/ ST, 91/ ST 92)
Hugo Sanchez (ST, 87/ ST, 89/ ST, 92/ ST 93)
Alan Shearer (ST, 87/ ST, 89/ ST, 91/ ST 92)
Andrij Schewtschenko (ST, 86/ ST, 88/ ST, 91/ ST 92)
Christo Stoichkov (ST, 87/ LW, 90/ ST, 92/ ST 93)
Davor Suker (ST, 85/ ST, 87/ ST, 90/ ST 91)
Fernando Torres (ST, 85/ ST, 88/ ST, 91/ ST 92)
David Trezeguet (ST, 86/ ST, 89/ST, 91/ ST 92)
Marco Van Basten (ST, 89/ ST, 91/ ST, 93/ ST 94)
Ruud van Nistelrooy (ST, 86/ ST, 90/ ST, 92/ ST 93)
Christian Vieri (ST, 86/ ST, 88/ ST, 90/ ST 92)
Ian Wright (ST, 85/ ST, 87/ ST, 89/ ST 90)
Gianfranco Zola (CF, 85/ CF, 87/ ST, 90/ CF 91)