Finally, an Icon Player Pick SBC has been released in FIFA 23 Ultimate Team! While it's "only" the baby version of the cards, it's still quite exciting, right? In this article, we'll show you what players you'll need to exchange and if that's actually worth it or not.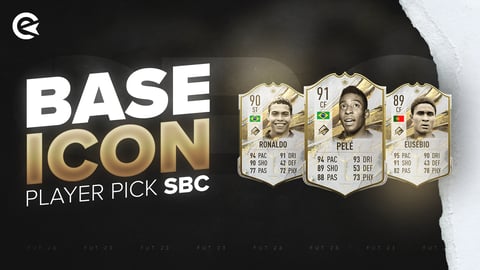 FIFA 23 has been out for a couple of months now, but the SBC content has never been as exciting as it is right now. Sure, Winter Wildcards got us in a good mood not only with its tokens but also with its Squad Building Challenges. Now, we also got the Base Icon Player Picks...
Usually, it's almost impossible to get an Icon out of your packs... that's why the Player Pick is especially popular with the community. But are there any expensive Icons left in FUT, or is it more likely to just cost you some coins? Well... let's find out.

FIFA 23: Icon Player Pick SBC – Best & Most Expensive Players
More than 100 Icons are part of Ultimate Team this year, and you can pick all of them via this SBC. The following are the ones you definitely want to see on your screen:

PLAYER

RATING

PRICE
Pelé
91
2.1M
Eusébio
89
2M
Johan Cruyff
89
1.59M
Ronaldo
90
1.51M
Zinedine Zidane
91
1.38M
Jairzinho
88
905K
Ronaldinho
89
665K
Ferenc Puskás
89
606K

Éric Canton

a
88
585K

Lothar Matthäus

88
550K
Patrick Vieria
86
540K
You should keep in mind, though, that most of the Base Icon players are completely unusable at this point in FUT – they may be decent SBC fodder, but that's about it. What's appealing here is quite frankly the gamble... maybe you'll be the one lucky son of a b*tch that pulls R9?

Base Icon Player Pick SBC Requirements & Price
Now that you know what you can get, let's talk about the price. You have to exchange two different teams in total. For the first step, an 85-rated squad with one player above 87 is required. Then you'll need another 86 OVR team with an 88-rated card. If you have to buy all players on the transfer market, the SBC roughly costs 155K right now.
The Squad Building Challenge obviously gets a lot cheaper if you've got most of the players in your club already. The SBC will be available in FUT until January 8, and you can also repeat it if you weren't lucky the first time.


So... Is The Base Icon Player Pick SBC Worth It?
Well, it's more likely that you'll get something you don't want, as there are sooooo many bad Base Icons. On the other hand, the SBC is extremely cheap – especially if you already have most of the players anyway. Oh, and it's a Player Pick, so it's at least a bit less random than before.
However, the most important criteria is fun. Is it fun to open packs or pick a player for amazing rewards? Hell yeah! There's nothing quite like it in FIFA 23... maybe the Team of the Year, but that's a few weeks away.
Just complete the damn SBC...