The Winter Wildcard Promo is in full swing. The SBC content is surprisingly good at the moment. We show you the best Winter Wildcard SBCs!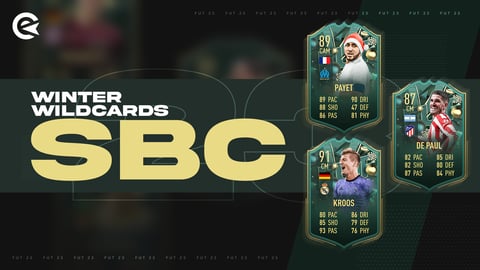 Winter Wildcard is a promo in FIFA 23, every day there is new SBC and Objective content. To keep an eye on all tokens for the Winter Wildcard Swaps, we have a token tracker for you.

We have to admit that EA has really improved in terms of content in the last few weeks. Until December, there was a lot of criticism - often justified - towards North America. But now the content drought seems to be over, or at least, we certainly got a lot during the holidays.

The Best Winter Wildcard SBCs In FIFA 23
EA has published at least one good SBC every evening. There were Winter Wildcard promo cards as well as Token SBCs. Until today, you could get three Swap Tokens by cheap SBCs. This is helpful for players who don't have the time to play for all the tokens. Especially at Christmas and New Year's Eve, you should spend more time with your family than with the FUT grind, so props go out to EA.
Winter Wildcard: Daily Login SBC
Once a day you should switch on the console or check out the web or companion app. Because there is a Daily Login SBC where you only have to hand in one bronze player. If you complete this SBC every day, you'll get some killer rewards (which you won't get anything out of anyway, but hey, it's the chance you might that counts). So it's obvious you should complete the login SBC.
Winter Wildcard: Token SBC
EA releases a Token SBC every other day, at least that seems to be the rhythm. And the Token SBCs have only cost about 2k coins so far, that's almost free. The challenge is also easy to solve, you don't have to worry your head about the chemistry. You can then trade the tokens for packs, player picks or Winter Wildcard Tonali or Trippier. Those are good deals if you ask me.
Winter Wildcard Eric Bailly SBC
Eric Bailly is a perfect match for Dimitri Payet, Jonathan Clauss and the new Nicolas Pépé from the Winter Wildcard Team 2. Very briefly: How many more cards should Ligue 1 actually get? The Bailly SBC ist't just for the good links though, he's a real beast ingame too. With the Shadow chem style Bailly has 91 speed, but 75 stamina is a bit annoying.
| | |
| --- | --- |
| Erik Bailly SBC | Attribute |
| Position | CB |
| Price | 73.500 Coins |
| Pace | 83 |
| Shooting | 53 |
| Passing | 70 |
| Dribbling | 77 |
| Defending | 87 |
| Physical | 88 |
| Weak Foot | 3 |
| Skills | 3 |
For Bailly, you have to trade in an 85 team with an in-form. Doable.
Winter Wildcard Jean-Ricner Bellegarde SBC
And the next great card is also from Ligue 1, available for a very fairly priced SBC. Jean-Ricner Bellegarde is reminiscent of Showdown Fofana, if you've completed that. For 37k, you should definitely pick up Bellegarde. Here are his stats: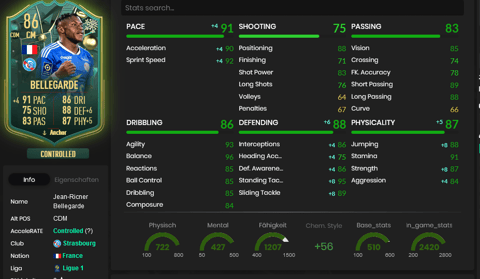 FIFA 23 Winter Wildcard Toni Kroos SBC
Toni Kroos got a really awesome SBC, but it's also expensive. We'll get to the best value for money SBC later. Kroos has not only received an upgrade to 80 speed, but also 5-star skills. And that's really significant. The card is playable and easy to link with other promo cards like Éder Militão or Rodrygo. In addition, Kroos is a real all-rounder.
| | |
| --- | --- |
| Toni Kroos SBC | Attributes |
| Position | CM |
| Price | 271.000 Coins |
| Pace | 80 |
| Shooting | 85 |
| Passing | 93 |
| Dribbling | 86 |
| Defending | 79 |
| Physical | 76 |
| Weak Foot | 5 |
| Skills | 5 |
For Kroos, you have to hand in an 83, 84, 85 and 87 team.
FIFA 23 Winter Wildcard Dimitri Payet SBC
You should definitely complete Payet. After Angel Di Maria, this is probably the best value SBC in FIFA 23. You get an 89 OVR with really killer stats, plus he's offensively variable and easy to link. Jonathan Clauss is the most obvious option here, his winter wildcard is available as an objective.
| | |
| --- | --- |
| Dimitri Payet | Attributes |
| Position | CAM, LW, ST |
| Price | 74.000 Coins |
| Pace | 89 |
| Shooting | 88 |
| Passing | 86 |
| Dribling | 90 |
| Defending | 47 |
| Physical | 81 |
| Weak Foot | 4 |
| Skills | 4 |
The fact that you only have to trade in an 83 and 85 team for Payet is already very cheap, so get it done! SBC Fodder is also pretty cheap at the moment.
Winter Wildcard Squad Building Challenges
Rodrigo De Paul you can also happily complete if you have the coins (91k) and can link him to Showdown Correa for example. De Paul is a good all-rounder, but his stats definitely don't come close to those of Kroos or Payet. Sadly, we cannot recommend Mesut Özil's wildcard SBC.
On December 27th Reece Oxford was released. His card links well to Hudson-Odoi, but at 38k it's not exactly cheap either. Furthermore, he can't play as a CB, which would have made the SBC far more appealing. We do not recommend completing Oxford.
However, who you should definitely complete Maxim Gullit, who has received the same stats as his father Ruud Gullit. Here is a detailed report on the Gullit SBC.
Currently there are new SBCs every day, but some of them are really bad. Silas is okay, but the card doesn't blow us away. In addition, the nation of DR Congo is difficult to link, so you would have to resort to many VfB players to bring Silas to full chemistry, and you honestly don't want that. Genrally, the SBCs for the Bundesliga are underground. EA releases Englishmen like Oxford or Kelly all the time, whose cards are neither good nor cheap.
This article contains affiliate links which are marked with [shopping symbol]. These links can provide a small commission for us under certain conditions. This never affects the products price for you.