EA's FIFA servers experience some downtimes on a regular basis; especially in FUT this can be very frustrating. Here's what you can do to fix these problems and log into FUT 23.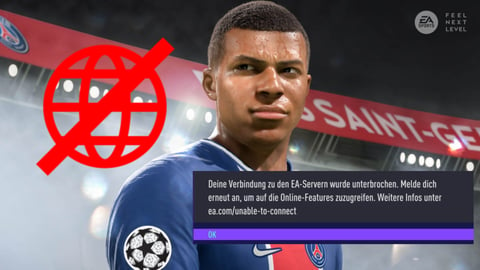 EA is working on their servers. Check downdetector.com ; if there are reports about connection difficulties with FIFA Ultimate Team are piling up and users are reporting in the comments that the connection to the FUT servers is failing, you can be pretty sure that it's a server based problem.
The maintenance update takes place on March 22 from 3 am to 10 am UTC – and not only for FIFA 23, bur for every FIFA since FIFA 18. Let's hope everything is fine by the end of it. And Title Update 9 can roll out soon and without further issues.
We have a scheduled maintenance on Mar 22 from 3 AM UTC to 10 AM. During this time, you may be disconnected or unable to access online services on all platforms.

Match creation will be disabled 30 min prior to each maintenance.

Titles impacted: FIFA 18 - 23 on all platforms.

— FIFA Direct Communication (@EAFIFADirect) March 22, 2023
FUT 23 Server Status – How To Fix Connection Problems

If there's no one else but you on DownDetector that is reporting connection problems with FUT, the issue could also come from your internet connection or from your devices' configuration. You can try the following measures:
Ask your friends whether they're experiencing the same problems as you. If they can log in and you can't, it's even more clear that the solution has to be found somewhere in your network or hardware settings.

The easiest way to solve a network issue usually is to restart your router
Your internet connection settings on your PC or console can also cause problems from time to time. So restart your PC/console as well
You can contact EA Support using the link. It's not guaranteed that EA will get in touch any time soon, but there's no harm in trying
From what we've experienced, in most cases the issues won't be caused by you or your internet connection. It is probably some problem with EA or the FIFA servers. In this case, the only thing that really helps is to wait for fixes. EA will (most of the time) publish updates on their Twitter account FIFA Direct Communication.
If everything is back to normal, you should check out the latest promo in FUT: