Showdown SBCs are among the most popular SBCs in FIFA 23 Ultimate Team. Matching the big "showdown" in the Europa League between FC Sevilla and AS Roma, there are two new players that you can get. Here you can find out everything about potential upgrades and why you should complete Wijnaldum or Montiel.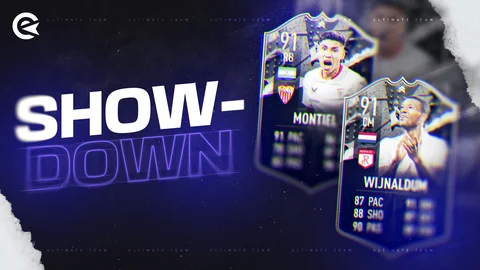 On Wednesday, May 31, the final of the Europa League takes place. In other words, this season's opponent for the serial winner FC Sevilla has been found. After a two-year break, the record winner of the Euro League is once again in the final. And nowhere do the Spaniards feel more comfortable than in this competition.

However, the Andalusian record winners face another serial winner in José Mourinho. Under the Portuguese title-collector, Roma has a great chance for another triumph, after bagging the Conference League only last season.
The Showdown cards receive a unique upgrade of +2 in case of a victory. A tie and an upgrade for both players (+1) is not possible in the final. So, only one of them will be worth it…

Showdown SBC In FIFA 23: Wijnaldum vs. Montiel In The Europa League Final
Showdown Gonzalo Montiel – The Allrounder At The Back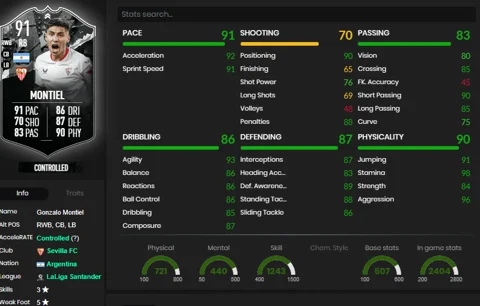 Requirements:
82-rated squad with one player from Argentina
85-rated squad with one player from La Liga
Gonzalo Montiel's Showdown card has a very fair price of 65k. It is a real all-rounder and, apart from its shooting stats, boasts strong values in the 90s. But Montiel's Showdown version can be considered a true all-rounder, not only because of his overall rating.
In addition to his regular position as RB, Montiel's Showdown card can also be used as RWB, LB, and CB. With the 5-star rating on his weak foot, he can easily fill the position on the left side of defense. This flexibility is a blessing for team building.

Moreover, you could use Montiel as a key puzzle piece for your overall chemistry. He has perfect links to Road-to-the-Final Erik Lamela and Flashback-Jesus Navas – both are absolute hidden gems that you should definitely try out.

Of course, Montiel will fit seamlessly into the best La Liga squad, especially if Sevilla wins the whole thing.
Showdown Georginio Wijnaldum – The Midfield Engine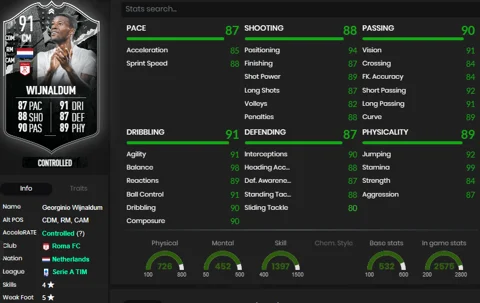 requirements:
84-rated squad with one player from the Netherlands,
85-rated squad with one player from Serie A
87-rated squad with one TOTW or TOTS player
Gini Wijnaldum could play a crucial role in the final, just like Montiel, as both players were recently in their team's starting eleven. His three SBCs cost a total of 190k. A proud price, but also a strong card.
Like his compatriot Ruud Gullit, Wijnaldum's Showdown card has all stats ​​above 80. If Roma were to win, he would have almost only stats around 90. This would make him an absolute OP player in midfield with his 5-star weak foot and 4-star skill moves, even considering all TOTS players.

Wijnaldum, like Montiel, is a real favorite among trainers due to his variability. In central midfield, he can occupy all positions (CDM, CM and CAM) and even switch to the right midfield (RM).

A win for Roma would also give Tammy Abraham's RTTF version another upgrade. The link between Abraham and Wijnaldum would be an important building block to achieve full team chemistry. On Friday, June 2nd, with the release of the Serie A TOTS, there will be more strong Serie A cards that could facilitate the integration of the two Roma cards into your FUT squad. Perhaps we can look forward to a TOTS or TOTS-Moments card of Paolo Dybala.
FIFA 23 Showdown SBC: Montiel or Wijnaldum? – Our Recommendation
Foremost: definitely get a Showdown player. This will add a special touch to your Europa League final evening, as you will be even more invested in the game.

Showdown Gonzalo Montiel is the safer option, because:
Sevilla is the favorite
The price is currently only a third of the Wijnaldum SBC
At the current point, Montiel would fit better into the team
However, if you're a gambler and want to upgrade your midfield, maybe take a risk towards the end of FIFA and complete the Wijnaldum SBC, because:
even if Roma doesn't win, Showdown Wijnaldum is still a strong card
Mourinho is Mourinho
the Serie A TOTS could bring good links in FUT
No matter whoever you'll complete, we wish you good luck and an exciting Europa League night!
This article contains affiliate links which are marked with [shopping symbol]. These links can provide a small commission for us under certain conditions. This never affects the products price for you.