With the Tahith Chong Squad Foundation SBC, we get a great upgrade in FIFA 22 Ultimate Team. We'll show you the cheapest solution for the SBC here!
Regardless of whether it's Adidas NumbersUp, Rulebreakers or the newly announced Next Generation cards – there's always something going on in FIFA 22 Ultimate Team. EA Sports never runs out of ideas concerning the events. The publisher also remains creative with the SBCs. In addition to the sweet Simon Banza SBC and a pretty nice David Neres upgrade, we are now getting a Tahith Chong SBC. And it's pretty crazy. Is he finally showing us his real talent?

Tahith Chong Squad Foundation SBC Ratings
Manchester United fans will know Chong, who was supposed to become the next big talent for the Red Devils. And the Bundesliga experts among us might remember the short intermezzo Tahith Chong had at Werder Bremen. When he was loaned from Manchester United in the previous season 20/21, the hopes (and expectations) were high... but he could not fulfill them.

In 15 games, most of them short appearances, he only managed 3 goals. After a second half of the season at Anderlecht where things were marginally better, he ended up with Birmingham in the EFL Championship. And here, too, the numbers don't exactly scream world-class - 3 assists in 13 games, no goal. So where does this Squad Foundation SBC for him come from? Is it to remind people of his talent, which still hasn't shown himself to the fullest in real life? We don't really know. What we do know, is that his card has pretty strong ratings and doesn't cost that much.
| | |
| --- | --- |
| Position | LM |
| Nation | Netherlands |
| League | EFL Championship |
| Team | Birmingham City |
| OVR | 88 |
| Price | 88k - 100k Coins |
| Pace | 92 |
| Shooting | 85 |
| Passing | 86 |
| Dribbling | 88 |
| Defending | 60 |
| Physicality | 80 |
Damn son... Chong quickly turns into a physically strong Ryan Giggs, at least in FUT. The card is really strong, and you should consider it for your left wing, but because of the weaker league and the nation, the card is difficult to link. If you don't need him as a regular player, though, he could still be the perfect super sub.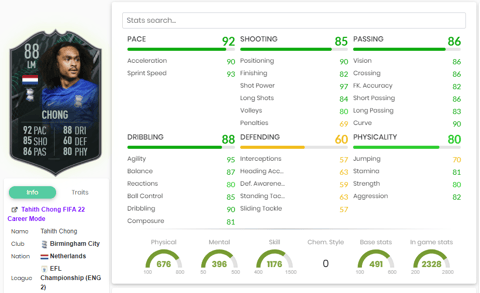 Is The Tahith Chong Squad Foundations SBC In FIFA 22 Worth It?
It depends on who you already have. But we would generally say: yes! Strong pace, strong dribbling and generally great ratings... What more could you want? However, he is not ideal for linking. But 88,-100,000 coins are pretty good for such a strong player.
Pro Tahith Chong SBC

Contra Tahith Chong SBC


Strong pace

Great combo of impressive stats

Decent price

Strong physicality

Not good for linking (Championship, Netherlands)
Tahith Chong SBC Cheapest Solution
What's the cheapest solution to complete the Tahith Chong SBC? If we show you the cheapest solution, that means: This card is a real banger! But of course, even with average cards, you should know how to complete SBCs in the cheapest way. For Chong, you also only have to hand in one team, so let's take a look at that:
| | | |
| --- | --- | --- |
| PlayStation | Xbox | PC |
| 88,000 coins | 100,000 coins | 98,000 coins |
Tahith Chong Team 1 SBC Cheapest Solution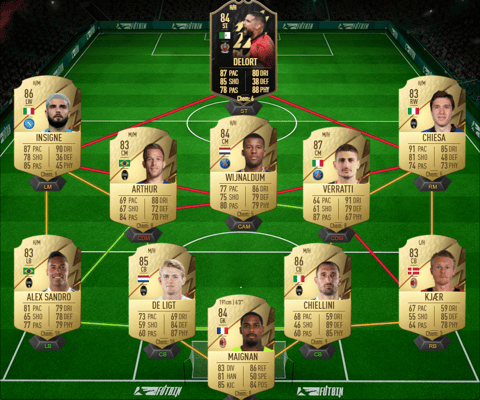 Chong SBC Team 1 Requirements
min. 1 player from Netherlands
min. 60 chemistry
min. 85 OVR
min. 1 In-Form player
| | | |
| --- | --- | --- |
| PlayStation | Xbox | PC |
| 88,000 coins | 100,000 coins | 98,000 coins |
SBCs are pretty popular in FUT, you should never miss out on them. So stay up to date with our SBC solutions on EarlyGame!