If you are looking for creative map codes where you can play in first person on Fortnite, you have come to the right place!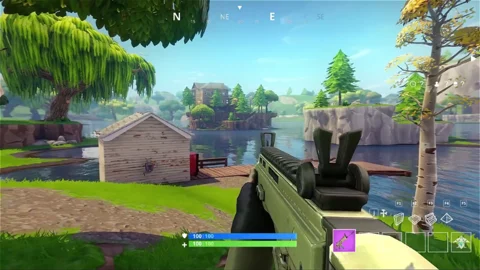 Fortnite continues to introduce new and exciting features to keep its players entertained. One such feature is the first-person mode, which has gained immense popularity. To make it easier for you to find the best first-person maps in Fortnite, we have compiled a list of some of the top codes that include multiple genres.
Best First Person Creative Map Codes In Fortnite
Just Drive
Code: 3268-0463-9507
Are you looking for a casual driving experience in Fortnite? Then you should check out "Just Drive" by Fortxoto. This map has been created using Creative 2.0 and offers endless roads for players to drive solo or with friends while chatting with each other.
The map supports up to 30 players and allows you to toggle between the default first-person camera and a third-person view.
First Person 1v1s
Code: 7436-7108-3755
Do you consider yourself a pro in Fortnite's third-person view 1v1s? If so, it's time to put your skills to the test in the first-person mode. Input the code for "First Person 1v1s" and challenge your friends or in-game opponents to a battle using all the latest weapons in the game. Additionally, you can build in the first person, making the experience unique.
First Person Escape
Code: 4155-3443-4549
If you love puzzles that involve mazes, you will enjoy "First Person Escape." This map is a maze puzzle room where the objective is to escape by navigating your character model using directional keys. With 15 different levels of increasing difficulty, this map tests both your decision-making and reflex skills.
Cuddle Monsters
Code: 4848-1129-6903
Get ready for a terrifying experience with "Cuddle Monsters," a Fortnite version of the popular horror game Five Nights at Freddie. Play in the first-person view or the default third-person camera angle of Fortnite and try to survive the night by evading the plushy figures' attempts to attack you.
First Person Race Track V2
Code: 2316-7626-9693
If you love driving mechanics in Fortnite, you should check out "First Person Race Track V2." Though an old map released in 2021, the developers have constantly updated it with new features like a lap calculator, map courses, and real-time mini-map to provide users with the position of enemies.
Get some of the best gear for gaming right here on Amazon!
Evil 14 Awaits: First Person
Code: 7710-0034-8827
Enter the mansion in "Evil 14 Awaits: First Person," a Fortnite replication of the famous psychological horror game P.T. The objective is to escape from the mansion by evading the unknown creature and solving the loop. This map provides hours of entertainment through its repetitive gameplay elements.
25 vs 25 - Space First Person
Code: 3325-4874-9671
This is a 25 vs 25 team deathmatch game mode with a first-person view. Though it supports up to 50 players, you can start the game with ten players, five players on each side. With a small map size, it's perfect for players who love close and mid-range action.
Downtown Drifting - First Person
Code: 7906-3518-1746
Looking for a first-person racing and driving map? "Downtown Drifting - First Person" is perfect for you. This map offers a thrilling experience with its unique tracks and is perfect for those who love driving mechanics.
In conclusion, these are some of the best first-person maps in Fortnite that you must try. Each map offers a unique experience, from casual driving to horror and puzzle-solving. So, input the codes, grab your friends, and have fun exploring the world of Fortnite.
This article contains affiliate links which are marked with [shopping symbol]. These links can provide a small commission for us under certain conditions. This never affects the products price for you.