Fortnite Chapter 3 is at the helm and not only have we gotten the name of the new map, but we also have details on the terrain. What is new in Chapter 3? Let's check it out!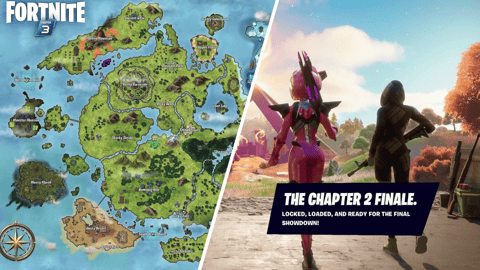 Fortnite Chapter 3 will be released in early December. Everyone is waiting patiently for what is to come, especially the leakers who are currently working their butts off to find all the nitty-gritty details before the release of the new chapter.
The newest info regarding the next chapter come from Fortnite Leaker ShiinaBR who has found the code name of the new Fortnite map of Chapter 3.

What is the Name of the Chapter 3 Fortnite Map?
According to ShiinaBR the new map is going to be called "Artemis".

The new map is codenamed "Artemis"

(via @FNBRUnreleased)

— Shiina (@ShiinaBR) November 21, 2021
Until now, all codenames for Fortnite maps have started with the letter A. Remember these?

Chapter 1 : Athena
Chapter 2 : Apollo
Chapter 3 : Artemis
The term "Artemis" refers to the Greek goddess of animals, vegetation and the hunt. Doesn't that sound a lot like Fortnite Season 6? But don't worry, we probably won't have to deal with those pesky primal weapons or anything of the like again.
Other than the name, we don't have any other further information regarding the new map. But don't worry, we've found some map concepts and other details, so we've got some idea as to what's coming in Fortnite Chapter 3.
What Will the Fortnite Chapter 3 Map Look Like?
We know that the upcoming map is going to be quite diverse thanks to concept from EDMIRE2k. After a long time, we're finally getting multiple terrains like volcanos, desserts and icy tundras. All these are going to be spread out on various islands, but those will also be connected to the mainland.

My Fortnite Chapter 3 map 'concept' (using this for a pinned tweet for new visitors) pic.twitter.com/ydITy8aJ3r

— EDMIRE (@EDMIRE2k) October 29, 2021
The artist revealed his concept in a tweet. The concept is based off the real prototype of the new map. Looking back at the name Artemis and what it stands for, we're quite sure that there could be new creatures integrated into the map as well.
It wouldn't be a surprise if Epic decides to add some brand-new hunting mechanics into the game. There have been leaks that Epic is working on some new animals. So along with the slide-mechanic, could this also be a new aspect in Chapter 3?

Will Old POIs be Found on the Map of Chapter 3?
It really isn't a secret that OG players wish they had the old map. But truth be told, that would be pretty boring from Epic, which is why we think that a few of the old staples might be making a comeback in the new chapter. Some of the destinations we're talking about are Lucky Landing, Dusty Desert and the pirate ship.
Bear in mind, all of this is just conjecture. We can only speculate at this point, but we have big hopes for Fortnite Chapter 3.
Before we get ahead of ourselves any further, let's sit back and enjoy the Chapter 2, Season 8 Live Event.