With Fortnite patch 23.50, the Cipher quests came to the island. Can you solve the puzzles and bag the free rewards?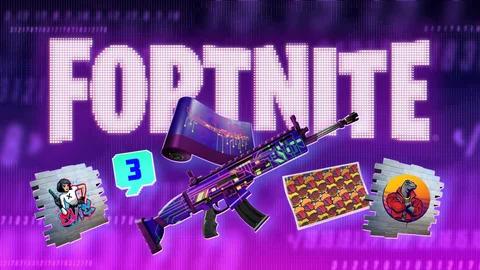 Things are coming to a end as Fortnite Chapter 4 Season 1 prepares for its conclusion. But before the new season starts, Epic has brought a series of challenges to the island that not only help you complete your Battle Pass, but also reward you with free cosmetics.
All Cipher Quests in Fortnite
Most of the Encrypted Cipher quests are actually relatively easy to understand. You can find suitable guides for the difficult quests in our Fortnite Challenges section. In any case, we have an overview for you here:

Visit Bastion Outposts (3)
Upgrade vehicles with off-road tires or cow catchers (3)
Hit opponents with ranged weapons from 75 meters or more (5)
Get eliminations with a weapon of Uncommon rarity or higher (3)
Get eliminations with a weapon of Rare rarity or higher (3)
Get eliminations with a weapon of Epic rarity or higher (3)
Get eliminations with a weapon of Legend rarity or higher (3)
Damage opponents with the Infantry Rifle or the Six Shooter (4 phases)
Mark targets with the Falcon Scout (3)
Collect ammo from chests (150)
Encrypted Cipher Quests in Fortnite
This next set of quests are a bit more difficult to solve as they are encrypted cipher code quests. They have a brief description, but the solution to the encrypted code is up to you to figure out. But luckily we are here to help.
Stage 1: 2.14.22.12.14. 19.19.24.2.18.5
In Stage 1 of the Encrypted Cipher Code quests, one is asked to examine "the wall under the eastern building" from, well, somewhere - but the exact location is encrypted. That location is Anvil Square, which is in the middle of the Fortnite Map.

The other codes are not live yet, but we have an overview of all the solutions (of the English codes) for you here:
1.17.23.9.14 19.19.24.1.21.6 = Anvil Square
12.18.15.5.14.25.14.4.2.22 = Lonely Labs
19.11.2.20.22.5.20.8.4.22.13.1.4.19 = Shattered Slabs
19.19.19.1.27.1.22.22.16.15.10.20.21.2.17.26.12 = Use a spray motif on Splits Bowl
You will receive 10K XP for completing each of these quests. Plus there are other cool rewards you can unlock.
All Ciper Quests Rewards in Fortnite
You'll get some cool rewards for completing a certain number of quests during the Secret Code event. Here's everything you can unlock:
7 unencrypted Cipher Quests: Keep the Peace Spray
15 unencrypted Cipher Quests: Order Up Loading Screen
24 unencrypted Cipher Quests: Deciphered Emoticon
3 encrypted Cipher Quests: Circuitry Wrap
Completing a certain number of Encrypted Ciper quests also unlocks the Distant Roar spray theme.
A new Encrypted Cipher quest will be added every day until March 7, 2023, and all missions will remain available until March 10.

This article contains affiliate links which are marked with [shopping symbol]. These links can provide a small commission for us under certain conditions. This never affects the products price for you.