In the Fortnite Island Creator & Player Engagement Programme, the best creators out there will now be rewarded for their work and creativity with up to $10 million. We have all the details for you.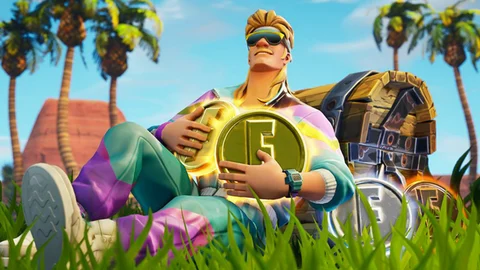 Do you enjoy creating Fortnite islands and are you really good at it? Then with a little luck, you could be earning some serious cash.
That's because Epic recently announced that they're making changes to how they calculate frequency payouts, so that creators whose islands are played the most can earn up to $10 million.
Create Fortnite Islands And Earn Up To $10M
Especially with Creative 2.0 and Unreal Engine 5, creators have more options when creating Fortnite islands than ever before. Some create real masterpieces that could almost pass for a new video game. And that's exactly the background of this new program.
Epic Games intends to bring many more players to Fortnite, even those who may not be fans of Battle Royale or Save the World.
When creators share their Fortnite island and thus bring new players to the game, they should be sufficiently rewarded for it in the future. The benchmark for calculating total monthly revenue is based on time played.

That is, the more time players spend playing and exploring a map, the more money the creator receives. This metric, along with player retention and player popularity, is used for engagement rewards.
So when you create a map, make sure that the time factor plays an important role. The goal should be to keep players on the map for as long as possible, not for them to join the game briefly, complete a task and leave.
Get some of the best gear for gaming right here on Amazon!
A chart with the new metric shows what creators could earn. The data represents earnings for 12 months from April 2023. So that could mean more than 220 players earning more than $100,000 through the program and the five creators with the most played islands earning $10 million a year. That's a lot of cash...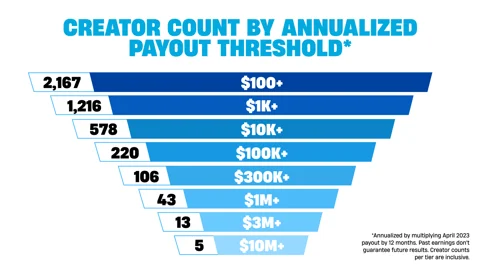 Fortnite does not currently support deep linking. To visit an island, you must manually enter an island code in-game. As a creator, you can easily spread these numeric codes via social media.
And the new payout program is a great way to reward creators for their efforts. Especially because you get even more incentive to create nice maps for the players out there.
Imagine being able to say in the future that you are now a multiple millionaire thanks to a Fortnite map you created. A dream...
If you feel like creating a Fortnite island and earning money, you can sign up for the "Fortnite Island Creator & Player Frequency" programme here. We wish you every success!
This article contains affiliate links which are marked with [shopping symbol]. These links can provide a small commission for us under certain conditions. This never affects the products price for you.