Fortnite skins and crossovers - they just go together. New collaborations are announced again and again. In our weekly series, we present our Fortnite crossover skin of the week and tell you how many V-Bucks you have to scrape together for it.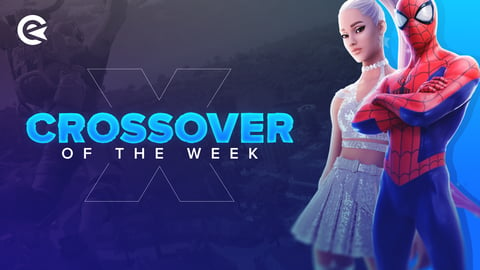 After skyrocketing in popularity between 2017 and 2018, Epic Games had the brilliant idea of collaborating with Marvel in Chapter 1 Fortnite Season 4 to celebrate the release of Marvel's Avengers: Infinity War film.

This not only made the developers ton of money but also attracted many new players who were excited about the idea of taking on Thanos and wearing the Infinity Gauntlet in Fortnite. It also started a trend that has resulted in more big brands and stars, including musicians, actors, anime characters, and other gaming franchises wanting to work with Fortnite. A trend that continues as strong as ever, if not more.
Every few weeks, a new, exciting collaboration shows up in the battle royale. With that in mind, we present our Fortnite crossover of the week to you every week.

Fortnite Skin of the Week: X-23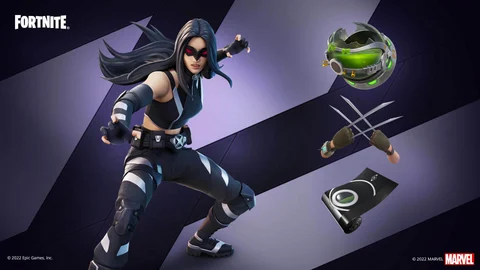 Laura Kinney, aka X-23, is a fictional MCU superhero most associated with the X-Men. The character was created by writer Craig Kyle for the television series X-Men: Evolution in 2003 before debuting in the 2004 NYX comic series.
In the story, Laura was revealed to be the clone and later adopted daughter of Wolverine, created to be the perfect killing machine. For years she proved herself to be a capable assassin working for an organization called The Facility. A series of tragedies eventually led them to Wolverine and the X-Men. She attended school at the X-Mansion and eventually became a member of the X-Force. It later turns out that she is not a clone but Wolverine's biological daughter. Like her father, Laura has a regenerative healing factor and enhanced senses, speed, and reflexes. She also has retractable adamantium-coated bone claws on her hands and feet. In 2015, the character followed her father and took the name and costume of Wolverine in the series All-New Wolverine.
Dafne Keen played Laura in the 2017 film Logan.
Fortnite Skin X-23: Prices and Cosmetics
Within the crossover, X-23 appeared in the Fortnite Item Shop on 10/09/2022. Here you can find an overview of all cosmetics and their prices:
X-23 Bundle (Full Set): 1,900 V-Bucks
X-23 Outfit (Contains alternate style without mask): 1,500 V-Bucks
Clone Capsule Back Bling (Included with X-23 Outfit)
Adamantium Claws of X-23 Pickaxe: 800 V-Bucks
X-Symbol Wrap: 500 V-Bucks
Fortnite Skin of the Week 40: Iron Man Zero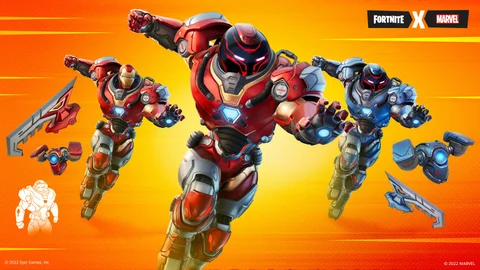 We probably don't have to tell you who Iron Man is... After all, he's one of the most famous characters in the Marvel Universe! The character first appeared in 1963's Tales of Suspense #39 and was given his own title in Iron Man #1 in May 1968. For those who never followed Iron Man's story, however, here's a sneak peek:
Anthony Edward Stark, a wealthy American businessman, playboy, philanthropist, inventor, and scientist genius, suffers a severe chest injury during a kidnapping. When his captors try to force him to build a weapon of mass destruction, he instead develops mechanical armor to save his life and escape captivity. Later, Stark continues to develop his suit, adding weapons and other technological devices he developed at his company, Stark Industries. He uses the suit and subsequent versions to protect the world as Iron Man. Although he initially conceals his true identity, Stark eventually reveals himself publicly as Iron Man.
Fortnite Skin Iron Man Zero: Preise und Cosmetics
In Fortnite, Tony Stark aka Iron Man first appeared in Chapter 2, Season 3 as a Battle Pass Skin. And recently, Epic added another variant within the collaboration with the Fortnite x Marvel: Zero Point War comic. All players who redeem all five comic books codes will instantly unlock the Iron Man Zero Outfit, the Repulsor Module Backbling, the Blade Attachment pickaxe, and the Iron Man's Revelation emote. However, the Outfit, Back Bling, Pickaxe, and Emote also appeared in the Item Shop on September 29 at 02:00 CEST, where you could purchase the set for 2,000 V-Bucks.
Fortnite Skin of the Week 39: SypherPK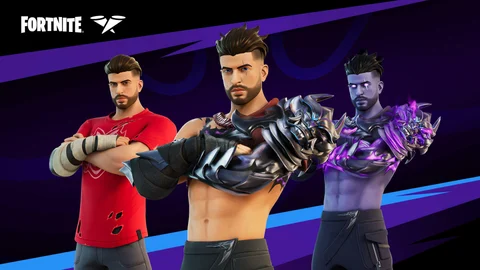 Ali Hassan, better known as SypherPK, is a streamer and content creator on YouTube and Twitch. He is best known for his How to Win series and high kill gameplays in Fortnite. Both his main YouTube channel and his Twitch channel have an impressive 6 million followers! That makes the 26-year-old one of the most successful Fortnite creators out there!
So it's no wonder that Sypher got its own Fortnite skin as part of a cooperation with Epic!
Fortnite Skin SypherPK: Prices and Cosmetics
Within the crossover, SypherPK appeared in the Fortnite item shop on 09/23/2022. You could also win it for free within the SypherPK Icon Cup on September 21st, 2022! Here you can find an overview of all cosmetics and their prices:
SypherPK Pack (All Cosmetics): 2,000 V-Bucks
SypherPK Skin (incl. Back Bling Oni's Bane): 1,800 V-Bucks
Sypher's Scmitar Pickaxe: 800 V-Bucks
Emote Walk Like Sypher: 300 V-Bucks
Fortnite Skin of the Week 38: Moncler Skins

This crossover (alongside the one with Balenciaga) was probably one of Fortnite's strangest. Moncler is a French-founded Italian luxury fashion house specializing in ready-to-wear and haute couture clothing, headquartered in Milan. From its beginnings as a down jacket boutique, Moncler has expanded into the design of raincoats, windbreakers, knitwear, leather goods, shoes, perfume and accessories. In 2013 the company was listed on the Milan Stock Exchange. In 2022, Moncler recorded sales of 2 billion euros. And in a collaboration with Epic Games, Moncler has even launched its own Fortnite clothing line.

Fortnite Moncler Skin: Prices and Cosmetics

Within the crossover, two outfits and other cosmetics appeared in the Fortnite Item Shop on 11/23/2021 during Chapter 2, Season 8. Here you can find an overview of all cosmetics and their prices:
Moncler Classic Pack (André Outfit, Renée Outfit and The Summit Loading Screen): 1,800 V-Bucks
Moncler Classic Gear Pack (Glider Ax Umbrella, Glider Para-Pluie and Tube Umbrella Back Bling): 800 V-Bucks
Both outfits include two more styles and are reactive.
Fortnite Skin of the Week 37: Dreamer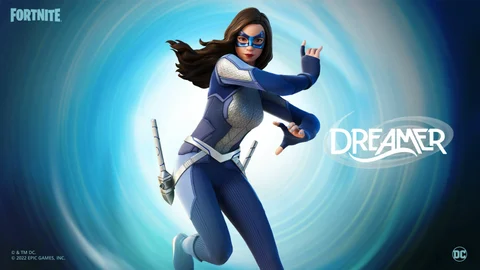 The Supergirl fans probably already know her. Dreamer, played by Nicole Maines, is from the DC television series Supergirl, which ended in late 2021 after six seasons. Dreamer is credited not only with being the show's first trans superhero character, but the first trans superhero character on television.
Not only is she a groundbreaking character, but she has had a fairly loyal following and has been well received by the LGBTQIA+ community in general. Nia Nal (Dreamer's non-superhero name) was a totally original creation for the series and not a lazy adaptation of a non-trans comic book character made trans to appeal to the demographic.
20-year-old Nicole is a trans woman herself – and fights for her rights. In her role as Nia Nal, the young journalist comes to National City and meets Supergirl there. She has a strong need to protect other people and as the season progresses, she becomes the superhero Dreamer, who can foretell death.
Fortnite Skin of the Week 36: Starfire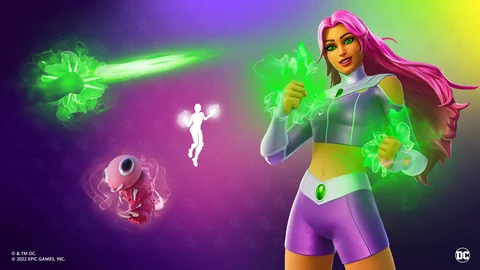 Ah yes, Fortnite and comic book collaborations are perhaps the most common of crossovers we can see in the battle royale. Plenty of superheroes from both Marvel and DC Comics have made an appearance in Fortnite - some even have multiple versions of themselves like Batman, Spider-Man, or Wolverine.
This time, one of DC's original Teen Titans has made her way into the game - Starfire! Debuting in 1980, the Tamaranean (An alien species) quickly became a fan-favorite for comic book lovers. Her popularity blew up in the early 00s, with the Teen Titans cartoon becoming's Starfire most recognizable appearance outside comics.
Fortnite Starfire Skin: Prices & Cosmetics
The Starfire outfit costs a total of 1,500 V-Bucks, however, if you want to get all complimentary cosmetics that price goes up to 1,800. This is everything you can find in the bundle:
Starfire Outfit + Syl'Khee Back Bling: 1,500 V-Bucks (Standalone)
Starbolt Pickaxe: 800 V-Bucks
Starfire's Flourish Emote: 300 V-Bucks
Finally, if you buy the bundle, you'll also get the Starfire Flies Loading Screen.

Fortnite Skin of the Week 35: Patrick Mahomes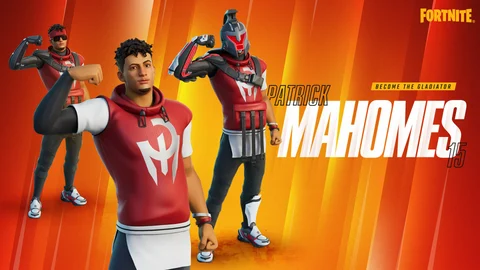 Patrick Mahomes is an American football quarterback for the Kansas City Chiefs of the NFL. He became the only quarterback in history to threw for 5,000 yards in both college and the NFL in a single season. He is also the only player in NFL history, along with Peyton Manning and Tom Brady, to throw 50 touchdown passes in a single season. So rightly so that he was named a First Team All-Pro in 2019 and honored with NFL Offensive Player of the Year and NFL Most Valuable Player awards. In the 2019-2020 playoffs, Mahomes also led the Chiefs to Super Bowl LIV, their first Super Bowl appearance in 50 years, where they defeated the San Francisco 49ers.
Fortnite Skin Patrick Mahomes: Prices and Cosmetics

Within the crossover, Patrick Mahomes appeared in Fortnite on 08/25/2022. With a few unique cosmetics, of course:
Gridiron Gladiator Back Bling: Suit up for battle. (Included with the Patrick Mahomes Outfit.)
Snap Axes Pickaxe: Expertly handled. (Glows red when swung!)
Endzone Elite Wrap: Gear for your gear.
Showtime Emote: Back in the game.
Fortnite Skin of the Week 34: The Exo Stranger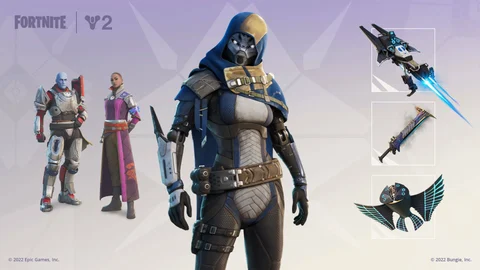 After months of rumors, the Destiny 2 x Fortnite crossover finally came to the battle royale. Destiny 2 is a free-to-play online multiplayer first-person shooter developed by Bungie. It is the sequel to 2014's Destiny and its subsequent expansions.
The game is set in a "mythical sci-fi" world and features a multiplayer "shared world" environment with elements of role-playing games. As in the original, activities in Destiny 2 are divided into PvE and PvP game types.
Players take on the role of a Guardian protecting the last safe city on earth, wielding a power called the Light to protect humanity from various alien races and fight the looming threat of darkness.
A very interesting character of the game is the Exo Stranger. This legendary Exo, also known as Elisabeth Bray, is trapped in a time warp yet determined to save her sister from darkness.
Fortnite Exo Stranger Skin: Prices and Cosmetics
Within the crossover, the Alien Exo and other characters from Destiny 2 appeared in Fortnite on 08/24/2022. With a few unique cosmetics, of course:
"The Exo Stranger" outfit incl. "Pouka" back accessory: 1,500 V-Bucks
The Lament Pickaxe: 800 V-Bucks
Glider "Sparrow" (+ Exo Stranger Shader style): 800 V-Bucks
Fortnite Skin of the Week 33: Son Goku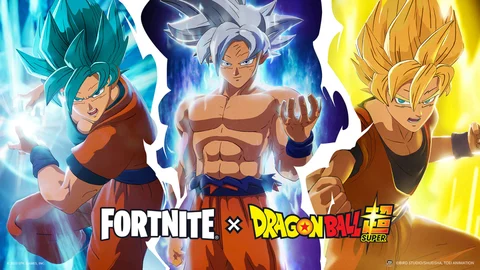 Dragon Ball is one of the most famous anime and manga series ever. The first manga was published in 1984! Presumably, for many out there, Dragon Ball is a piece of their childhood for that very reason.
The series follows the adventures of the protagonist Goku from childhood to adulthood as he trains his martial arts. He spends his childhood far from civilization until he meets a teenage girl named Bulma, who encourages him to join her quest for seven orbs known as Dragon Balls, which when collected will summon a wish-granting dragon. On his journey, Goku makes more friends, becomes a family man, discovers his extraterrestrial origins and battles a multitude of villains, many of whom are also in search of the Dragon Balls.
Fortnite Skin Goku: Prices and Cosmetics
As part of a massive Dragon Ball crossover, Goku, along with other characters from the series, appeared in Fortnite on 08/16/2022. With a few unique cosmetics, of course:
Here is an overview of all Dragon Ball cosmetics that appeared in the game during the crossover.
Fortnite Skin of the Week: Blade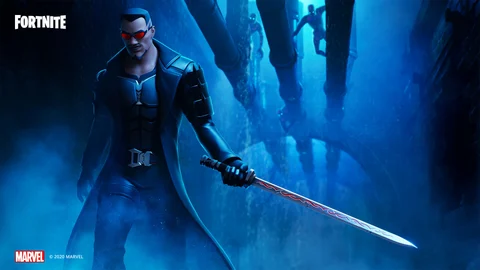 Blade is a fictional character from Marvel Comics. Created by writer Marv Wolfman and artist Gene Colan, he first appeared in The Tomb of Dracula #10 comic book in 1973 as a supporting character, but later became the main character in his own story.


Dedicating his life to rid the world of all vampires, Blade uses his unique physiology to become the perfect vampire slayer. While initially portrayed as a human immune to vampire bites, Blade was retroactively established as a vampire after being portrayed as such in Spider-Man: The Animated Series and the Blade film series.
The character has been widely adapted from the comics into various media, including films, television series, and video games. Fortnite Blade Skin: Prices and Cosmetics
Fortnite Skin Blade: Prices and Cosmetics
In Fortnite, Blade was first released on September 25, 2020. Of course, he also received some nice cosmetics in the game. Here you can find an overview of his cosmetic items or the prices:
Blade Pack (All Cosmetics): 2,300 V-Bucks
Outfit "Blade" including "Sword of the Daywalker" back bling: 2,000 V-Bucks
Dayflier Glider: 1,200 V-Bucks
Daywalker's Kata Emote: 300 V-Bucks
Fortnite Skin of the Week 31: John Cena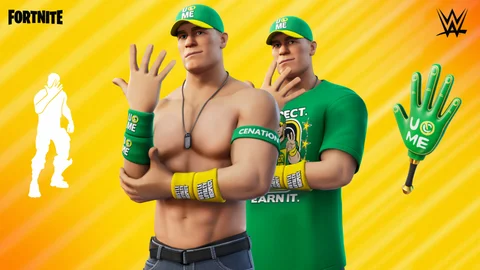 As part of the Epic SummerSlam, 16-time champion John Cena is ready to give their opponents an Attitude Adjustment in Fortnite. If there really is someone among you who doesn't know him, we'd be happy to introduce him to you:
John Felix Anthony Cena is an American professional wrestler, actor, and former rapper currently signed to WWE. He is considered one of the greatest professional wrestlers of all time and has tied with Ric Flair for the most World Championship reigns in professional wrestling history.
A 16-time world champion, Cena has won the WWE Championship 13 times, a record for the title. He is also a five-time US Champion, four-time World Tag Team Champion, two-time Royal Rumble Match winner, one-time Money in the Bank Match winner, and has headlined five major WWE pay-per-view events - including the WrestleMania main event.
He got his first leading acting role in 2006's The Marine and received praise for his performances in Trainwreck, Ferdinand, Blockers, and Bumblebee. He also starred in F9 and portrayed the Peacemaker in The Suicide Squad.
Fortnite Skin John Cena: Prices and Cosmetics
In Fortnite, Cena was first released on July 29th. Of course he also received some nice cosmetics in the game. Here you can find an overview of his cosmetic items or the prices:
John Cena bundle (All Cosmetics): 2,000 V-Bucks
John Cenaoutfit incl. "WWE Championship Title" back bling: 1,500 V-Bucks
Five Digit Slappr Pickaxe: 800 V-Bucks
John U Can't C Me Emote: 400 V-Bucks
How To Get Skins In Fortnite
Over the years, Epic Games has released over 1350 skins. You can get most of the skins by purchasing them with V-Bucks in the Fortnite Item Shop. There are the following different price categories:
Legendary Fortnite Skins: 2000 V-Bucks
Epic Fortnite Skins: 1500 V-Bucks
Rare Fortnite Skins: 1200 V-Bucks
Uncommon Fortnite Skins: 800 V-Bucks
However, not every skin can be purchased with V-Bucks as some are included in the Battle Pass or Fortnite Crew Pack, or can be unlocked through a special event.
We're back next week in our Fortnite Crossover of the Week series with another cool collaboration. Until then, please have a look at the following articles: