The cooperation between Epic and NBA goes into the next round. Not only are there brand-new NBA skins in Fortnite, but also the NBA 75 All-Star Hub is here! You can prove your skills, and get a free NBA spray if you shoot enough baskets.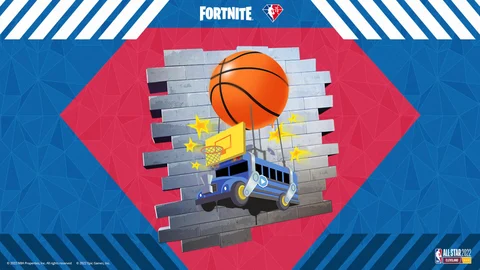 To celebrate the 75th NBA season and the NBA All-Star 2022 team, the NBA has hit the court with Fortnite once again! And this time, not only are there new really cool NBA skins added to Fortnite, but you can also explore the All-Star Hub and its myriad of activities, including indoor and outdoor basketball courts, photo booths, and lounge areas until February 23, 2022, at 16:00 CET. Let's celebrate NBA 75!

But that's not all. For the very first time, you'll be able to vote for a future emote in-game! And of course, there's another free goodie that you can pick up in the Creative mode NBA Hub with very little effort.
How To Get The Free NBA Spray In Fortnite?
As mentioned above, there are currently a few basketball courts in NBA Hub where you can show off your skills. To get the free NBA spray, you need to prove yourself. Better yet, shoot 18 baskets.

Located all over the Hub, there are basketball hoops and trash cans where you can sink a ball. Each basket counts only once, meaning you'll have to walk around the Hub a bit to find all the baskets.

On each basket, there is a red switch. Once you hit a basket, it will turn green. At the top of the left corner, you also have an overview of how many baskets you have already hit.





Then, once you've hit the 18 baskets, you'll get the free spray to show off in your Fortnite lobbies.