Have just re-downloaded Fortnite, or have you been playing for a while but still using the normal default settings? Well, with these settings, you can take your Fortnite skill to the next level and increase your chances of winning!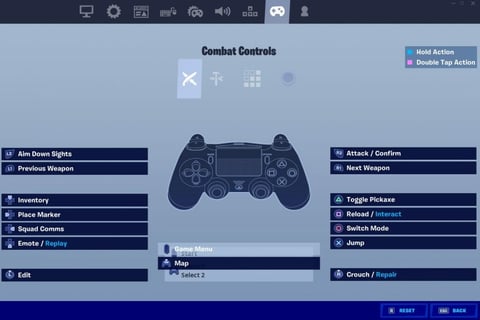 With Chapter 4 Season 1 starting soon, there's something you need to know, especially if you're new to the game. What if I told you that your Fortnite gameplay will improve after reading this article without spending countless annoying hours in creative mode.
How is this supposed to work, you might be thinking? Quite simple, by changing the controller settings. You'll notice that after a very short time, once you've warmed up a bit, you're sure to get one or the other epic victory.

A short but important piece of information first. This list is only intended as a guide and is not a requirement! Everyone is different and can therefore perhaps play better with different settings. So don't get frustrated if it doesn't work for you. You can easily change certain settings at any time so that in the end you get your perfect gaming experience.
The best controller settings in Fortnite
Let's start with the graphics settings in the settings menu, on the far left. Even if they don't seem important to you, they have a massive impact on your gaming experience. They are responsible for how well and smoothly your gameplay will run. By the way, don't panic if a few options don't appear for you. There are differences in graphics settings between the PC and a console.
Graphics settings:
Graphics Options
Brightness: 99%
Interface Contrast: 1x
Color blind mode: Off
Degree of color blindness: (any)
Graphics Quality
Quality auto set: Auto set
Quality presets: 100%
Viewing distance: far
Shadow: Off
Anti-aliasing: Off
Textures: Low
Effects: Low
Post Processing: Low
Advanced graphics options
VSync: Off
Motion Blur: Off
Display frame rate: On
DirectX version: DirectX 11
Allow multithreaded rendering: On
Use GPU crash debugging: Off
Now that you've learned enough about the graphics, let's move on to the more exciting part: the game settings. But first of all: All these settings are based on our own experiences and the settings of Fortnite professionals. It may well be that you prefer to choose a few assignments or settings differently. So feel free to try different things until you find your perfect settings.
Game settings:
Movement
Sprint Toggle: Off
Sprint by default: On
Sprinting cancels reload: Off
Open doors automatically: On
Battle
Switch with weapon down: On
Aim Toggle: Off
Mark hazards while aiming: On
Auto Pick Up Weapons: Off
Sort the commodity on the right: An
Building
Reset building selection: On
Turbo construction: On
Confirm editing on release: On
Tutorial
Additional game options
Reverse Look: Off
Invert Controls in Air: Off
Turbo Clear in Creative Mode: On
Nvidia Highlights: On
Ambient Lights: On
Press to search/interact: On
In-game UI
These HUD options are probably the more irrelevant settings in the game. You are welcome to leave these at the default settings.
In a nutshell, you leave everything On except for the reticle ammo gauge and (Creative Mode) runtime performance stats.
Controller Settings
Now pay attention, these settings are the most important for you as a beginner or advanced. But this is also where the biggest differences lie. Some players prefer high-sensitive gameplay, which means playing with a high sensitivity. If that's not your case, we have extra settings for those who prefer it slower and more controlled.
However, good controller settings are not everything. Knowledge of all healing items, weapons and the map will also help you on your way to victory. That's why we've written a Fortnite beginner's guide that will definitely simplify your first few hours in the game and make your path to victory easier.
Controller Controls
Steering
Auto run with controller: On
Instant Build (Builder Pro): Off
Machining hold time: 0.100 seconds
Hold time for slide: 0.098 seconds
Camera Reset Axes: Pitch Axis
Camera reset time: 0.100 seconds
Vibration: Off
Sensitivity:
Look sensitivity: autom. exhibited when advanced settings are enabled
Target sensitivity (target sight): autom. exhibited when advanced settings are enabled
Sensitivity Multiplier (Build Mode): 1.6x (High Sensitivity) / 0.9x (Low Sensitivity)
Sensitivity (Edit) Multiplier: 1.6x (high sensitivity) / 0.9x (low sensitivity)
Advanced Settings: On
Turning these settings on is one of the most important options, as it allows you to further fine-tune your sensitivity.
Advanced - Look Sensitivity
Horizontal look speed: 61% (high sensitivity) / 25% (low sensitivity)
Vertical Sweep Speed: 61% (High Sensitivity) / 25% (Low Sensitivity)
Horizontal thrust when turning: 0%
Vertical thrust when turning: 0%
Turn Thrust Delay: 0.00 seconds
Instant build boost: Off
Advanced - Aim Sensitivity
Horizontal look speed (scope): 12% (normal sensitivity)
Vertical look speed (scope): 12% (normal sensitivity)
Horizontal thrust while turning (scope): 0%
Vertical Boost when turning (scope): 0%
Spin Thrust Delay (Scoped): 0.00 seconds
Advanced - Sensitivity
Resistance while looking: 0.00 seconds
Input method when looking around: Linear
Aim Assist Strength: 100%
Copy simple settings: Copy from simple control
Copy Legacy Settings: Copy from legacy
Controller - Deadzone
Left Stick Deadzone: 14%
Right Stick Deadzone: 5%
Foot - controller
This is only of interest to you if you play Fortnite with a controller extension. If this is not the case, you can ignore this setting.
Allow Foot Controller: On
Foot Controller Deadzone: 1%
Maximum input strength for foot controller: 1%
Vehicles
Accelerate with stick: On
Tang Settings
Tank Control by Camera (Controller): On
To summarize briefly again: It is particularly difficult to find a middle ground with the sensitivity settings. That's why it's best if you start a Battle Royale round yourself and manually change the sensitivities to your liking. The green lines show you the default value. However, we would not recommend this under any circumstances, as it hinders you rather than helps you.

Controller
First go to the controller configuration and select "Custom". You can now assign your keys yourself. Again, it's a matter of taste, one prefers to jump with A/X while the other prefers to do so with B/O. The following settings are divided into two types, one in battle control and one in construction control. The name for both is actually self-explanatory. You can switch and adjust them just above the controller icon in the middle of the screen. The following settings come from the German Fortnite e-sportsman Letshe and his own experiences.
Combat controls:
| | |
| --- | --- |
| Xbox / PlayStation button | Function |
| RT / R2 | Attack / Confirm |
| RB / R1 | Next weapon |
| LT / L2 | Aim Down Sights |
| LB / L1 | Previous weapon |
| A / X | Jump |
| B / O | Change Mode |
| X / ▢ | Reload / Interact (Hold) |
| Y / △ | Crouch/Slide (hold) |
| Directional pad (top) | - |
| Directional pad (left) | Pickaxe on / off |
| Directional pad (right) | Set marker / team communication (hold) |
| Directional pad (down) | Sprint / Auto Sprint (tap twice) |
| L3 (press left stick) | Inventory |
| R3 (press right stick) | Repair |
Building Controls
| | |
| --- | --- |
| Xbox/PlayStation buttons | Function |
| RT / R2 | Wall part (choose/place) |
| RB / R1 | Floor part (choose/place) |
| LT / L2 | Stair Part (Select/Place) |
| LB / L1 | Roof part (select/place) |
| A / X | Jump |
| B / O | Edit |
| X / ▢ | Change Mode |
| Y / △ | Pickaxe on / off |
| Directional pad (top) | Inventory |
| Directional pad (left) | Change material / trap |
| Directional pad (right) | Team Comms |
| Directional pad (down) | Emote / Repeat (hold) |
| L3 (press left stick) | Trap Choice / Place / Interact (Hold) |
| R3 (press right stick) | Crouch / Fix (hold) |
Once you have adopted all these settings, there is one last trick. These settings are useless without a bit of practice. That's why you'll find the best training maps for beginners with us.
Now have fun trying out the new settings, for more Fortnite content check out: