A new Fortnite promotional video has revealed that helicopters will be returning to the Island very soon.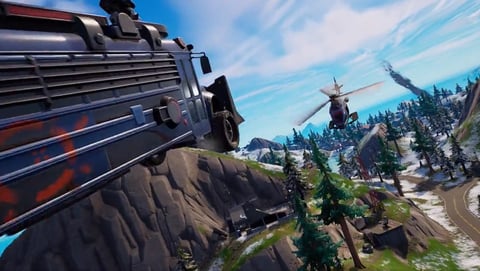 With the launch of Chapter 3, Season 2, we received heaps of new content in Fortnite! Among them were two brand-new vehicles, the Tank and the Battle Bus. It seems, however, that Epic wants to go one better and bring back a new version of a familiar favorite. We're talking about the helicopter! Here come the details...

Helicopters of the Seven
Back at the beginning of the current season, it was teased by some leakers that the helicopters would be returning. First, the chopper was updated in the Fortnite files in December. Later, a helicopter was even shown in the Naomi Osaka trailer.

The Choppa was actually in Fortnite back in the day. Back then, players and gamers flew through the air with the black and orange helicopter and were able to shoot at enemies from a great height. Now, Epic Games are teasing the aerial vehicles' return with a completely new design.

In a promotion video for Fortnite's new Zero Build mode, it's clear to see that the chopper will even be one of the main attractions!
At the very end of a recent Fortnite AD we can see the first official look at the Seven variant of Choppas

Thanks @tommyiscool69 for finding the full video and sending it over! pic.twitter.com/lYNHpgBzLz

— iFireMonkey (@iFireMonkey) May 1, 2022
Unlike the old helicopter, this one will be released in a black and blue design. According to Fortnite leaker iFireMonkey, the Chopper is a vehicle of the Seven and will be found at five of their outposts. We will probably be able to bring the helicopter back to the island with the help of donation stations.

When Will The New Helicopter Be Released In Fortnite?
We can assume that the helicopter will return to the island with the big mid-Season update. The files for the standard Choppa were updated some time ago, although it is unclear at the moment if these changes are purely cosmetic. The helicopters were already very well-balanced the first time around, so let's hope that Epic won't equip it with any OP missiles or turrets.

This article was originally written by Alisa Eiber.