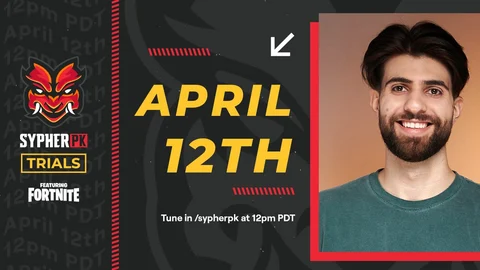 SypherPK announced a big Fortnite tournament with a $10,000 prize pool this past weekend. Find out all the info here on EarlyGame!
Last weekend, SypherPK officially announced that he will be hosting an epic Fortnite tournament with other Fortnite pros next week on his YouTube channel. The tournament is said to be different from previous ones. Stay tuned to find out when the Fortnite tournament will take place and why it's so special.
SypherPK Fortnite Tournament Participants
SypherPK mentioned that well-known streamers like World Champion Bugha, Nickmercs, MrSavage, Nick Eh 30, and many more will participate in the tournament. The tournament will be held in trio mode, with a total of 33 well-known streamers. Sypher especially wanted to mention that this Fortnite tournament will not be a "sweaty" tournament. It's meant to be for all types of players - challenging, but casual at the same time. But see for yourself what Sypher has to say:

SypherPK Fortnite Tournament Format
The main focus is that it is a kind of YouTube Challenge tournament. Every single round is supposed to be different and will have different goals accordingly.
SypherPK also mentioned that he himself will not participate because it would be unfair. After all, he is the only one who knows what will happen in each round. Sounds almost like a Fortnite surprise gift. If you look at the participants, you can expect a lot from the competition.
Excited to announce my own $10K Tournament w/ @TwitchRivals:

The SypherPK Trials ft. Fortnite

Your favorite streamers are going head to head in a VERY special format I cooked up

Monday, April 12 @ 2 CST: https://t.co/9lVe9w9TPh pic.twitter.com/7SX5zZisjq

— SypherPK (@SypherPK) April 9, 2021
SypherPK Fortnite Tournament Schedule
The tournament can be followed on SypherPk's Twitch channel. It will take place today, April 12. For EU fans, the tournament starts at 9:00 PM CET and will last about four hours.

Are you as hyped for the SypherPK tournament as we are? It will certainly be exciting to see how the pros compete with each other. If you're up for a tournament yourself, join our EarlyGame Fortnite tournament and compete for a prize pool of 100 Euros!
READ MORE:
Make your own MyEarlyGame account to customize the content on our website, enter exclusive giveaways and take part in tournaments!
Original article by EarlyGame's Alisa Eiber.