At the heart of the Gamers8: The Land of Heroes festival, HRH Prince Faisal bin Bandar bin Sultan, Chairman of the Saudi Esports Federation (SEF), shares his vision for the future of esports in Saudi Arabia and beyond. This is our exclusive interview with HRH Prince Faisal.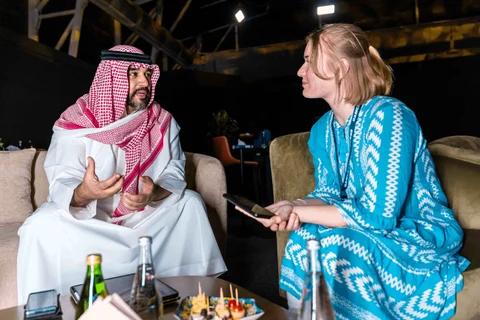 Gamers8: The Land of Heroes is the biggest gaming and esports festival in the world, featuring 15 elite esports tournaments from 12 top titles. The eight-week festival, which runs throughout July and August, is organized by the Saudi Esports Federation (SEF), which oversees top-level esports players in Saudi Arabia and is responsible for growing the gaming industry in the Kingdom.
HRH Prince Faisal bin Bandar bin Sultan is also the Vice Chairman of Savvy Games Group; Vice President of the Global Esports Federation; Vice President of the International Esports Federation; and plays a crucial role in Saudi Arabia's gaming and esports strategy by leading SEF as chairman. Prince Faisal is dedicated to promoting gaming as a valid career path, especially for young people, and he emphasizes inclusivity and well-being in the industry. His goal is to support the growth of esports and gaming, both in Saudi Arabia and globally.
Interview With HRH Prince Faisal – The Growth Of Gaming And Esports In Saudi-Arabia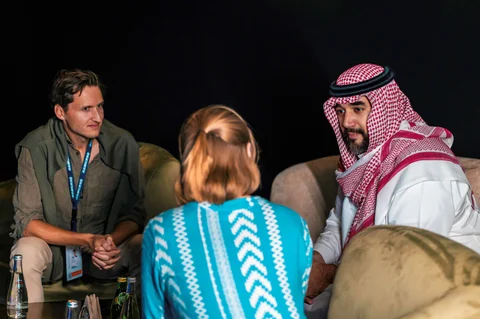 (This interview was conducted by EarlyGame Co-Founder Fabian Furch and Content Creator Malena Rose at the FIFAe Arena at Gamers8 in Riyadh, Saudi-Arabia.)
What has been your personal highlight so far?
Prince Faisal: I walk around and try to watch a bit of everything. I would say what I've enjoyed the most so far was the Tekken 7 Nations Cup tournament, because of the intensity of the event and seeing the Saudi team, because it was a nations-based tournament. I've also been at the FIFA arena to watch the Saudi teams play. FIFA is a game I grew up playing, so it's nice.
Is FIFA your favorite game?
I grew up playing FIFA and Street Fighter. I also played a little bit of Tekken, but I was never very good at it. But those were the two I grew up playing. Most of what I play these days are story-based games. I was playing Death Stranding recently but have taken a break of that to finish Zelda, which is my all-time favorite.
What are the major differences between Gamers8 last year and this year?
The biggest difference between last year and this year is time. Last year, being the first event, we had to go through a long approvals process... not just here but also with the publishers. The first one last year took a lot longer than we anticipated. Whereas this year, having that in the bag, having the knowledge base of what we're doing, we're able to start the process earlier.

Starting earlier gives you time to do more and better. Last year we had one stage, this year we have four. Last year we started the communications two weeks before the event, this year we started four months. We started booking the music acts months ahead of time. So, everything was a little bit calmer, planned out and strategic.
Looking to 2024 and maybe even 2030, where do you see Gamers8 in a couple of years from now?
I can only see it growing. My focus in everything that we do here is the player and the community. The information we've received from all the players that have come in, and the community that has come to visit, we're taking all of that on board, we're learning from it, and we're streamlining and improving everything for next year.

Having the extra time, we're already planning for 2024, which means we can add more. We can start communicating with publishers and start talking about multiple years. We can also build on what we've done last year and this year, and really showcase growth.

Our community is very strong and passionate and the players we have here are just as passionate. Giving them the opportunity to showcase their skills and show them that they belong on the global stage is key to everything we're doing. I am very proud of what we're doing but don't take my word for it, you need to come and see it for yourself.
How does Gamers8 play a role in Saudi Arabia's Vision 2030?
As part of Vision 2030 we're talking about the diversification of the economy. There are a number of industries that we're looking at and one of them happens to be gaming and esports. To that end, we've created the national gaming and esports strategy to create a gaming and esports hub in Saudi. The idea is to look at this industry holistically and build something that caters to the global community through the passion and the community we have here locally.

We're a population of around 34 million, and 68%, roughly 21 million, consider themselves gamers. So, this is a passion that we have here. It was a national step to build an industry for them to be able to thrive and grow in.

One of the great things about gaming and esports is whatever you enjoy doing, whatever you are passionate about, whatever you are knowledgeable about, there is a career path within gaming to do. If you're in media, production, or if you're a player, if you're in events, food and beverages, law, finance, anything that you are good at... There is a career path within this industry.

Our stated goal in our national strategy is about 50 billion USD in GDP contribution by 2030, which should be roughly 1% of the GDP coming from gaming and esports.

That's very ambitious to say the least and keeps me up a lot of nights. We want 250-plus companies based in Saudi, with 39,000 jobs created, and one AAA game created by Saudis in Saudi by 2030. So, there are a lot of ambitious goals, and a lot of effort behind it, but these young man and women and the excitement we see from them every day makes it worth it.

So, at Gamers8 it's not just about seeing the best gamers in the world play, it is seeing them play and then playing yourself. We have the carnival games, we have arcade games, we have an education area and a museum with every console created from the first one to the last, all playable.

It's about a destination that people want to come and visit not just to watch esports and go home. If it were just about watching the esports, I could just watch it online. But when you create that experience around it, then it becomes more than just the esports. It becomes an experience that people want to be a part of. It is music, gaming, it's fun, it's everything that gaming and being a gamer is, which is more than just playing. It is much more than that, it's a lifestyle.
What are the steps for a company that want to establish themselves in Saudi Arabia and get funding?
Depending on what sector you're coming from, we have a direct path into having a regional office and a base here. If it is anything in communications, there is an incentives package from the Ministry of Communications. If it's a general company, we have a package directly from the Ministry of Investment. We also have packages that we've created under the national gaming strategy for gaming and esports companies.

Depending on the company's background, there are several different packages. So, anyone can contact us, say "we want to come and have a base in Saudi" and then we can say, "well, let's look at your background and let's find the right pathway before you come in, and make it as easy for you as possible".

There are so many ways to come in and so many ways to grow your business here that the ease of business has grown in the last 10 years in a magnificent way. What we want to try and do is not recreate the wheel. We want to learn from what's happening globally, learn from the incentive practices that are already happening in countries like Canada, Germany and France, and then from the patches that have already been created here in Saudi, and use those to help bring people in, so that we're not creating something new that has to go through the approval process.

We're using a system that's there to make your life as easy as possible.
How do you support your national teams like the Falcons so that they will play a bigger role globally?
We have a program for the local teams to help them grow and that's from schools and training and teaching young men and women how to become professionals.

We have an academy, and we work with schools and universities. Once they're a professional team we have programs to help them grow, and to help them understand how to generate profit, how to become influencers, how to become professionals, how to find coaches, how to find sponsors, how to find private sector companies to back them. We don't do that as a government institution because this should be a private sector.

But once they're done with the professional career, how do they transition either into this industry or into other industries? That is a program that we launched as part of the national gaming strategy, which is held within the federation, and we work very closely with the teams to streamline, and it's something that we update, and we learn from every year.
We don't see a lot of female pro gamers at Gamers8 right now which is a general issue in the industry as well. In what way will Gamers8 support more women in gaming and professional esports?
We do have a few women's tournaments, which are not on the main stage but in some of the other things that we're doing, such as the ISF agent qualifiers. But we're growing that. The reason that it's not been as big as it is this year is the process of getting the licensing. Getting direct licenses is complicated in the timelines that we're working with, which is why having these early timelines now, we are already planning major women's tournaments for Gamers8 next year. We're already planning major tournaments for this year. In our local leagues, we have already launched several women's tournaments this year in Valorant, CS:GO and in FIFA.

We know we have a strong gaming community, about 48% female, 52% male. But in professional esports, it's about 10-11% female and 89-90% male. What we've done over the last three to four years especially is to grow the heroes in that sense, our young women, who can be the leaders of the next generation.

As much as I want to grow the professional female community in the next generation, it's not me that should be talking to them, it should be the young women that are talking to them. So, we now have a number of leaders and we're helping them gain the attention that they need to inspire the next generation. We are hoping to equalize those numbers sooner rather than later. It's something that's very important to me and we've been working to get everything behind the scenes ready so that we can do it right.

The worst thing that I can do is create that spotlight when the system isn't ready for use. The system is ready when we've got our young women playing on main stages and they are used to the lights. We know the talent is there, that is not my issue. We've got to know they're ready to take the spotlight and then they are taking it.

Our women have done interviews recently, they're getting the hype out there and they're a part of everything that we're doing. They are the center of what we are doing. Because, to be honest, the only growth and the only way esports is going to grow is through young women. That is the growth of this sport and as an industry and it is very important to me.
Our Verdict
In summary, at EarlyGame Group, we are optimistic about the growth potential of the gaming industry in the MENA region, with a special focus on Saudi Arabia. The community we encountered at Gamers8 seem to have a promising future ahead, with countless job opportunities and a gaming powerhouse in Saudi Arabia. We thank HRH Prince Faisal for giving his perspective on growth in the region.
Powered by