As the MENA region has begun making waves in the world of Rocket League esports, we sat down with one of their most promising young talents: Fahad.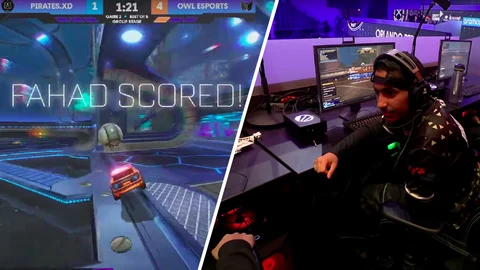 Fahad is only seventeen, but since emerging on to the scene last year he's quickly becoming known as one of the very best players in the MENA region (Middle East & North Africa). He has a reputation for being a young, aggressive player, who can constantly keep the pressure on. But he also has a reputation for being one of the best 1s players in the world, and while that mode isn't normally played at the highest level, it was recently at the Gamers8 tournament.
We sat down with Fahad after a very dominant 1vs1 performance against the Orlando Pirates at Gamers8, and asked him a few questions on behalf of our readers. Here's what he had to say...
Our Interview With Fahad
First off, well done this weekend, I know the team would have liked to get a little further, but you personally had some fantastic performances. Let's start by introducing you to our readers, how did you first get into Rocket League, and what was your path to becoming a pro?
Since I was seven or so I was playing Minecraft, but then I saw my friends playing Rocket League. At first I just thought, "what is this game?!", but then I downloaded it because it was free, and I played it. I really, really liked it, and since then I've been playing 24/7.

I was so good offensively, my friends just told me, "go score, and we will defend the net". But I was young and I didn't like to socialise that much while playing, so I got heavily into playing 1s. I liked relying on myself, so this was the mode I became known for. I was always at the top, always. But then I begun playing 2s and 3s again, when I found the perfect teammates.
And what's the local LAN scene here like, was it easy enough to get competitive practice in once you had found good teammates?
I didn't go to these events really at all until about a year ago, but then different teams asked me to play for them at these events so I gave it a go. I thought, why not? And I'm loving it now, and I'm enjoying 2s and 3s a lot more.

How have your comms developed since going pro?
The first time it was so hard, so so hard. I didn't speak well or say what I wanted to do, I would just dribble away without communicating. But my friends helped me develop my comms, and I've made good progress here.

Is there anything as a team you think you need to focus on?
Yes, the most important thing for us is rotations and keeping the pressure up. We just make pressure for 10-20 seconds, then break up to take boosts or something, and we let in silly goals.
So you want to focus on constant aggression?
Absolutely, if 1s taught me anything it's how important constant pressure is in Rocket League, especially at the highest level.

Gamers8 is one of the biggest tournaments we've ever seen for Rocket League, and definitely for this region, and we've seen how well MENA have done on home turf. Do you think events like this are what the region needs to get a more lively competitive scene going?
It's going to create another generation of Rocket League players in MENA, they need to see that Rocket League has a scene here, like other games do. We've always had the talent, however, many players from the region have given up on Rocket League in the past because there were no big events to attend. But now here we are, and I'm glad I stuck with it.

It is great to see big events like this starting to emerge, but I also think the region needs content to go alongside it for a healthy competitive scene. Do you agree? And do you have any plans to begin streaming on Twitch or creating YouTube content yourself?
Yeah, I just spoke to my cousin about this. I'm going to start streaming, I really want to do this when I have time. And streaming my Rocket League practise is like hitting two birds with one stone.
I've got a bit of a cheeky question, and don't answer if you don't want to, but is there another team you would like to see go forward and win the event now?
I think Falcons, they're good, and they're a local team.
And to end, is there anything you'd like to say to your fans watching at home?
I really love you guys, and thank you so much. You've given me so much support, sending me kind messages, and I really appreciate this, so thank you.
Well, thank you so much for talking to us, and we wish you all the best. We'll be watching your career with great interest.
We would advise our readers to do the same, watching Fahad play 1s is easily some of the most entertaining Rocket League you'll ever watch.
Powered by